Stay tuned for our next Pitch Perfect Competition.
This event aims to showcase and support student innovation on health matters.
Submit your innovative idea by Friday Oct 20th for your chance to pitch for 1 of 3 $5000 Student Innovation Fellowships to develop your idea.
Six project proposals will be selected and interested teams can get advice from H2i to perfect their pitch!
Candidates must apply online providing the following:
List of other students/faculty involved;
Role and Academic affiliation of applicant;
Name of potential Faculty Mentor;
Project description (up to 400words) including:

Project summary;
Milestones & goals;
Health / Medical need.
The deadline for applications is October 20, 2017.
Please read the complete guidelines here, before applying
Pitch Perfect will take place on Wednesday October 25th, 2017 on the first floor of ONramp (100 College St.) and finalist must attend in order to be considered for the award.
---
Medical startups compete for $15,000 in prizes at U of T accelerator's pitch event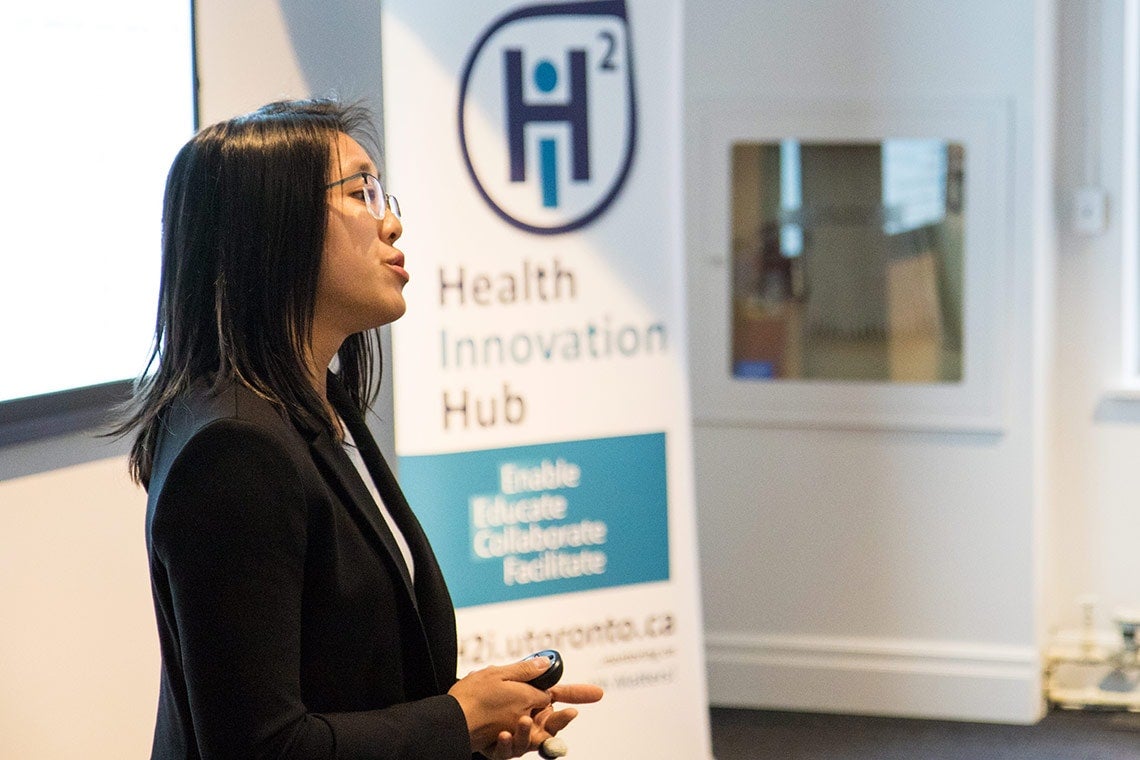 Entrepreneur Charlene Leung pitches her team's idea for a fitted radiation shield for physicians at H2i's pitch competition (photo by Chris Sorensen)
From using seal oil to treat nerve damage to a new tool to aid minimally invasive surgery, entrepreneurs from the University of Toronto and beyond tested out health-focused business ideas during the Health Innovation Hub's (H2i) recent pitch competition.
Six startups presented their ideas before a panel of three judges at U of T's ONRamp co-working space for entrepreneurs before being questioned about their products, markets and business models.
One of the winning startups, called Xpan, took home $5,000 for its attempt to improve on a surgical device called a trocar, a T-shaped implement used to create a portal into the abdomen during laparoscopic surgery.
The problem? Existing trocars must be replaced during surgery if bigger tools are needed. So Xpan created an expandable trocar that promises to speed up procedures and reduce complications.
"Xpan will be creating a new surgical gold standard, saving lives and saving money," Zaid Atto, a U of T graduate in biomedical engineering, told the judges.
Back in September, Atto and his team, which includes Seray Cicek and Chevis Dilbert, as well as Chris Bouwmeester, an assistant professor, teaching stream in U of T's Faculty of Applied Science & Engineering, took home a $10,000 prize for Xpan at a similar pitch competition at the Entrepeneurship Hatchery's Demo Day. They developed the device after Priscilla Chiu, a surgeon at the Hospital for Sick Children, relayed the problem to Bouwmeester, who, in turn, presented it to his fourth-year class.
H2i and the Hatchery are just two of U of T's many hubs that support entrepreneurs and aid in the commercialization of publicly funded research. Others include the Creative Destruction Lab, the Department of Computer Science Innovation Lab (DCSIL) and Impact Centre.
The other two $5,000 prize winners at the H2i pitch event were teams represented by Yair Feld, a medical devices entrepreneur who is an interventional cardiology fellow at Sunnybrook Hospital, and Evan Lewis, who did his PhD at U of T in nutritional sciences.
Feld's team pitched a novel microcatheter device that promises to help alleviate blocked arteries. Lewis, meantime, made a pitch on behalf of the startup Nutarniq, which uses a unique type of omega-3 fats found in seal oil to provide nutritional therapy to patients suffering from diabetes-induced nerve damage.
Yair Feld, a medical devices entrepreneur, watches other teams pitch their startups at H2i's event (photo by Chris Sorensen)
Other teams pitched ideas that included a fitted radiation shield for doctors and interpretation services for immigrants to use in hospitals.
Karim Mithani, a medical student at U of T, pitched a smartphone case equipped with a gyroscopic stabilizer that would allow patients with tremors to stay digitally connected. His teammates included U of T engineering student Hayden Provias.
Mithani's preparation for the event began 24 hours earlier. He volunteered to hone his public speaking skills using a virtual reality system built by a Burlington, Ont. startup called InStage. The system, consisting of a headset and controllers, simulates a public speaking engagment, complete with Power Point slides and an audience that can be made to listen intently or yawn and fidget as they lose interest.
Karim Mithani, who is studying medicine at U of T, practises his pitch using a virtual reality system developed by InStage of Burlington, Ont. (photo by Chris Sorensen)
Paul Santerre, a co-director of H2i and professor in the Faculty of Dentistry, capped off the event by going over H2i's mandate to translate science into benefits for broader society.
"We are the minor hockey league of entrepreneurship," said Santerre, who is a serial entrepreneur himself.
"But I can assure you that there are no NHL stars without an amazing farm team."