Industry experts are helping U of T health startups scale the 'brick wall' of regulatory approval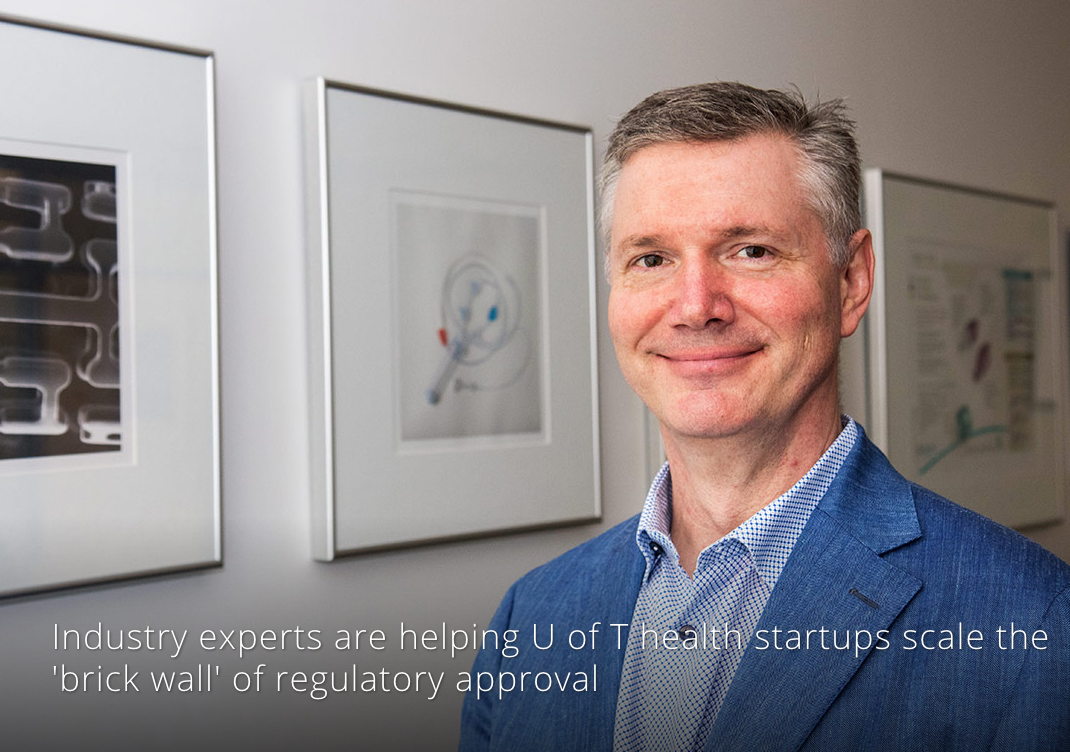 Robert Brooks
incorporated his startup – which helps surgeons using minimally invasive instruments "feel" what they're doing – the same week he submitted his PhD dissertation at the University of Toronto. That was a little over two years ago. He has since focused on building his medical device company SensOR Medical Laboratories and, critically, devising a strategy to navigate the maze of regulatory approvals necessary to get his product to market. "That regulatory approval is a brick wall between you and having a profitable business," Brooks says, referring to SensOR's "force-sensitive" film, which measures the force applied to tissues inside the body and wirelessly communicates the information back to the surgeon. Clearing the regulatory barrier is neither easy nor straightforward. Which is why Brooks and about two dozen other entrepreneurs spent Wednesday evening at ONRamp, U of T's co-working space for startups, listening intently to three industry experts provide information, advice and offer one-on-one assistance. The session, the third in a series, was put on by U of T's Health Innovation Hub (H2i), one of nine entrepreneurship hubs on campus. Among the topics covered over the three workshops: how to correctly classify a medical product for approval in Canada, the United States or the European Union; develop a regulatory strategy; and how best to execute that strategy.
Michaela Shaw, a regulatory and quality assurance consultant, delivers a presentation on executing a regulatory strategy at ONRamp (photo by Chris Sorensen)
The workshops were organized by
Frank Shannon
, the vice-president of clinical development, regulatory affairs and quality at Interface Biologics, an early-stage company co-founded by
U of T Professor and H2i co-director Paul Santerre
. With 25 years in the industry, Shannon says he decided to help put together the workshops after Santerre tapped him to work with a couple of H2i startups who were struggling with regulatory questions. "After meeting with three or four companies, I realized there was a lineup of about 20 startups [that needed help], and I didn't have the capacity," Shannon said in an interview at Interface's offices at the MaRS Discovery District. So he reached out to four other regulatory professionals – Michaela Shaw of Shaw Quality Solutions, Linnea Aasen-Johnston of Bespoke Business Solutions, Danna Zylka of Hill-Rom Canada and
Charles Tam
of Edwards Lifesciences – who volunteered their time and expertise. Shannon says the sessions are a wake-up call for startup founders dreaming of overnight success in the health industry. Unlike other product categories, it can be a decade or more for drugs or medical devices to get to market – not to mention millions of dollars – because of the need for clinical trials, safety-testing and other requirements. "We were causing disappointment for all these young innovators because we would have to do a reality-check with them," Shannon says.
Robert Brooks talks about his medical device startup SensOR Medical Laboratories
at an H2i event earlier this year (photo by Chris Sorensen)
Brooks, for his part, says he had a pretty good idea what SensOR was up against because he worked on a next generation of minimally invasive surgical instruments during his PhD. Nonetheless, he says the H2i sessions helped him focus more strategically on a regulatory path that he could clearly communicate to potential investors. "Investors claim to understand the space, but a lot of them don't – unless they're a [Venture Capital] fund who has a regulatory expert on staff," Brooks says. "The better you can articulate how you're going to get through that process, the more comfortable they're going to be."
April 26, 2018 By Chris Sorensen