Move fast and break things? Not when you're building a health-care start up: U of T entrepreneur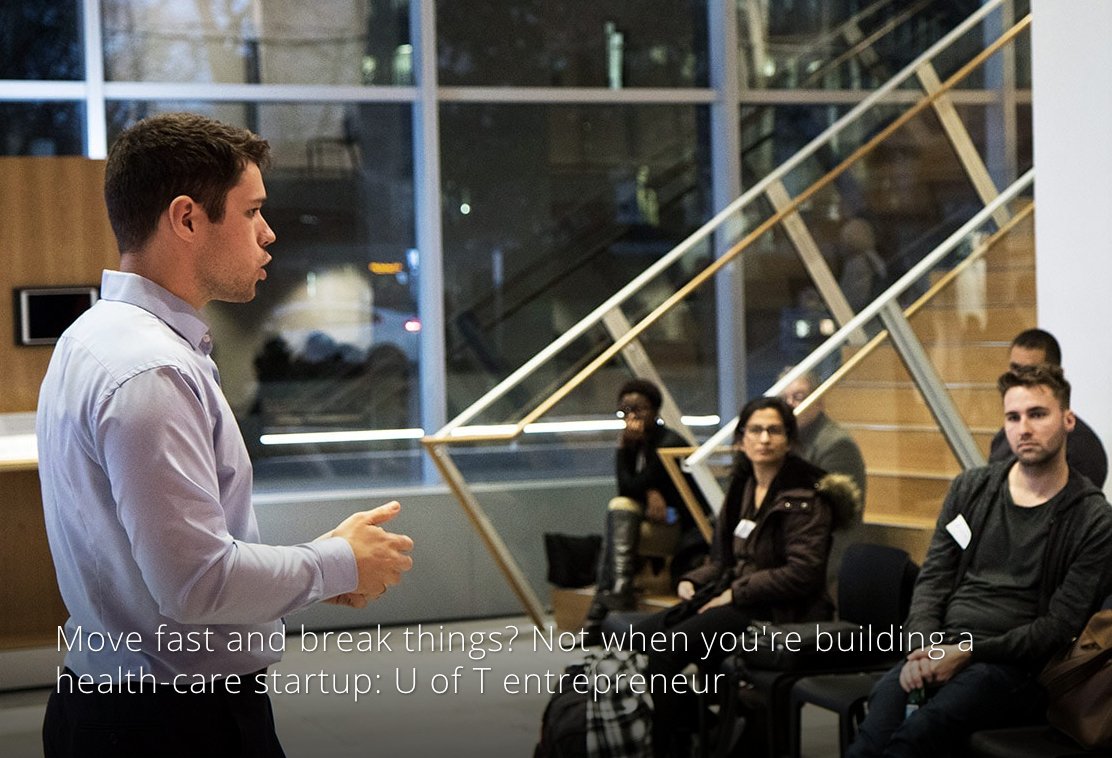 When it comes to the heavily regulated medical space,
Robert Brooks
says entrepreneurs should steer clear of the launch-it-now-fix-it-later approach favoured by the Mark Zuckerbergs of the world. "The Silicon Valley idea of 'move fast and break things' doesn't work well in health care," says the University of Toronto engineering alumnus and CEO of SensOR Medical Laboratories, referring to the Facebook CEO's original mantra. It was one of several words of wisdom dispensed by Brooks and fellow U of T entrepreneur
Marek Pacal
, who founded diabetes detection startup Optiggx, to nearly three dozen attendees at a Health Innovation Hub, or H2i, event this week. The event, held at Autodesk's offices in the MaRS Discovery District, served to kick off H2i's HealthEDGE Initiative, which is designed to encourage the creation and prototyping of solutions that address real health-care challenges through workshops, mentorships and a pitch competition. HealthEDGE is a partnership between H2i, the Department of Computer Science Innovation Lab (DCSIL) and the Entrepreneurship Hatchery – all part of the expansive ecosystem of entrepreneurship hubs located across U of T's three Toronto-area campuses.
Attendees at the HealthEDGE launch event listen to presentations from U of T entrepreneurs (photo by Chris Sorensen)
In his presentation, Brooks gave an overview of SensOR, the company he co-founded with
Justin Wee
, a PhD candidate in biomedical engineering at U of T. The startup has developed a unique force-sensing system that can be attached to minimally invasive surgical instruments that are used to perform surgeries through tiny incisions. It provides feedback via a wireless connection that helps surgeons tie sutures or manipulate tissue without causing damage.
"Surgeons can't feel what they're doing and they apply too much force," said Brooks, who noted that improper application of force is responsible for as much as 12 per cent of all medical errors. When it came to offering advice to prospective medical entrepreneurs, Brooks stressed the importance of doing one thing "really well" and avoiding the temptation to load up a product with extra features just because you can. Pacal, meantime, walked attendees through Optiggx, which uses smart contact lenses to provide a non-invasive way to diagnose and monitor diabetes. "The current diagnosis and monitoring of diabetes are surprisingly ineffective," said Pacal. "You will have had diabetes for a long time before you will notice your blood glucose."
Marek Pacal, who founded the diabetes detection startup Optiggx, says it's important to surround yourself with the right people (photo by Chris Sorensen)
Pacal, who did a PhD at U of T and is now a research associate at Mount Sinai Hospital, said Optiggx is on track to launch a Phase 1 clinical trial next year and has attracted the interest of a contact lens manufacturer. His advice to aspiring health-care entrepreneurs? "The most important lesson I've learned is you really need the right people around or else you won't get anywhere," Pacal said. "You can burn a lot of money if you don't know what you're doing."
Nov 22, 2017 by Chris Sorensen