U of T innovation centre to help form 'new cornerstone' of the Canadian economy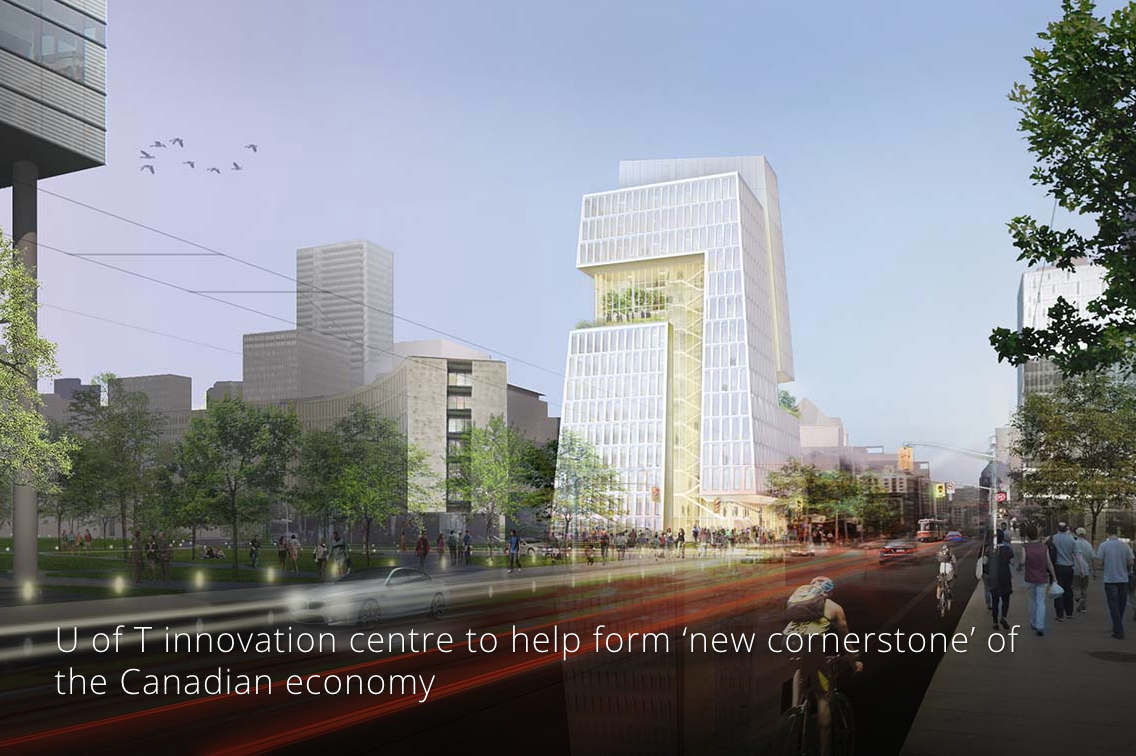 Toronto's burgeoning innovation district – home to hundreds of researchers, entrepreneurs and innovation-minded partners – is poised to undergo a dramatic expansion. The University of Toronto has confirmed plans to build a new innovation centre at the corner of College Street and University Avenue, directly across the street from the MaRS Discovery District and up the road from several of the country's top research hospitals. Part of a longer-term development plan, the first phase of the project will consist of a 14-storey tower that proposes to house U of T Entrepreneurship, the Innovations & Partnerships Office and the Vector Institute for Artificial Intelligence. The gently sloping tower, which will replace the western portion of the Banting and Best complex, will also devote half of its 250,000 square feet of floor space to startup companies and established corporate partners who want to be closer to U of T's cutting-edge research. It's expected to be completed in 2021. "The University of Toronto has played a key role in the GTA's emergence as a global centre for innovation," said U of T President
Meric Gertler
. "In fields ranging from artificial intelligence to regenerative and precision medicine, our world-class researchers and students continue to have a profound impact on innovation and entrepreneurship in the Toronto region."
A rendering of phase one of the innovation centre, as viewed from the southwest
U of T has emerged as a leader in creating startups in recent years, producing more than 500 companies that have collectively generated more than $1 billion in investment in the past decade. Since 2010, the university has also filed more than 400 patent applications and negotiated over 250 license agreements related to technologies developed by its researchers. With the new innovation centre, U of T will significantly increase its capacity – and that of Toronto – to play a significant role in shaping the future of Canada's knowledge economy. Designed by New York-based Weiss/Manfredi Architects in collaboration with Toronto's Teeple Architects, the new centre will encourage student entrepreneurs to rub shoulders with industry veterans, using a mix of office and instructional space, shared meeting rooms, lounges and public areas – some of which will be connected vertically between floors.
The lobby of phase one of the innovation centre
Phase two of the project – a second, taller tower connected by a multi-storey podium – will support U of T's innovation and commercialization activities in the biomedical and regenerative medicine space. "If you purpose-build a building to support interaction, collaboration and the growth of spin-off companies, you get a much higher success rate," explained
Scott Mabury
, U of T's vice-president of operations. At the same time, the centre's soaring atrium and open, inviting street-front design will serve to better connect the public with the university, and those working inside with the people whose future they are working to transform – yet another example of how U of T is very much a part of the city in which it is located.
A rendering of a lounge area in phase one of the project
The new development comes at a time when the physical structures housing much of U of T's commercialization apparatus are bursting at the seams. The Banting and Best buildings, built in 1930 and 1954 respectively, house an array of startups, accelerators and programs. There are over 50 U of T-affiliated startups in the Banting and Best buildings now – with a waiting list. Banting is also home to U of T's ONRamp co-working space, which was created in partnership with RBC and is open to entrepreneurs from U of T and partner universities in southern Ontario. "There is huge support and need for this type of building – it's the right space in the right location," said Mabury, adding that planning for the facility first began about eight years ago. Mabury said the new centre will amplify the innovation and commercialization activities already underway elsewhere at U of T, MaRS and downtown Toronto's proliferating array of research institutes, incubators and accelerators – an expanding hub that's already winning praise for its open, urban-centric approach to encouraging innovation. "Our aspiration is to help build a new cornerstone for the Canadian economy."
A rendering of U of T's new innovation centre (white buildings, at left) on the corner of College Street and University Avenue, once both phases are complete
by Chris Sorensen July 23, 2018