Pitch Perfect Winners Announced!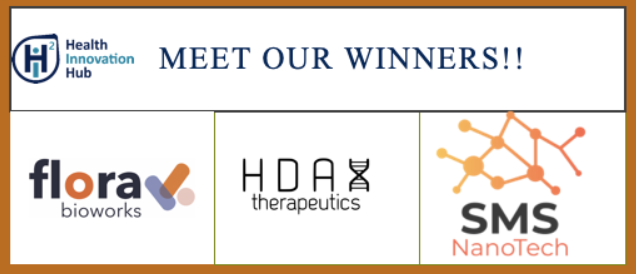 Congratulations to the winners and best wishes to all participants of our 2021 Pitch Perfect Competition!

The virtual event was well attended by over 75 participants. Six amazing pitches were presented by Clinical VR, Epiloid Biotech, Flora Bioworks, HDAX Therapeutics, Salibiotics, and SMS NanoTech. The presentations were judged by Efosa Obano, Joseph Ferenbok, and Paul Santerre. Our judges were greatly impressed by the quality of pitches presented by all six finalists!

Three winning teams will get $5000 Student Innovation Fellowship.



MEET THE WINNING TEAMS:



Flora Bioworks is developing the world's first microbiome-centric disease screening platform, revolutionizing how we diagnose cardiovascular disease and freeing health resources to where they can have the most impact.

"On behalf of our founders, we thank the organizers and judges for giving their time to make this event happen. We also want to extend our gratitude to the advisors that supported us as we developed our idea into something tangible. We will be using the funds from this competition to clinically validate our microbiome-centric platform, bringing us a step closer to improving the standard of care for patients affected by cardiovascular disease."
–Sachin Davis, Flora Bioworks

HDAX is focused on the development of targeted therapeutics for the safe and efficacious treatment of brain diseases.

"We're thrilled to be one of the winners of H2i's Pitch Perfect competition. The competition has already given us a lot of exposure, and the fellowship will help accelerate our venture to the next milestones."
–Nabanita Nawar, HDAX.

SMS NanoTech develops the next-generation platform technologies for early stage diagnosis of infectious diseases.

"Earlier this year I added "winning a pitch competition" to my bucket list for 2021. I am so proud that I can now check that off the list. Thank you to my team at SMS NanoTech for their contributions to making this dream areality. Onto the next challenge!"
-Mickael Dang, SMS NanoTech
H2i congratulates all winners and extends best wishes to all the finalists. Thanks to our judges and to everyone who attended!
allTags
No allTags saved to the post yet …