Pitch Perfect 2022 Recap & Winners Announcement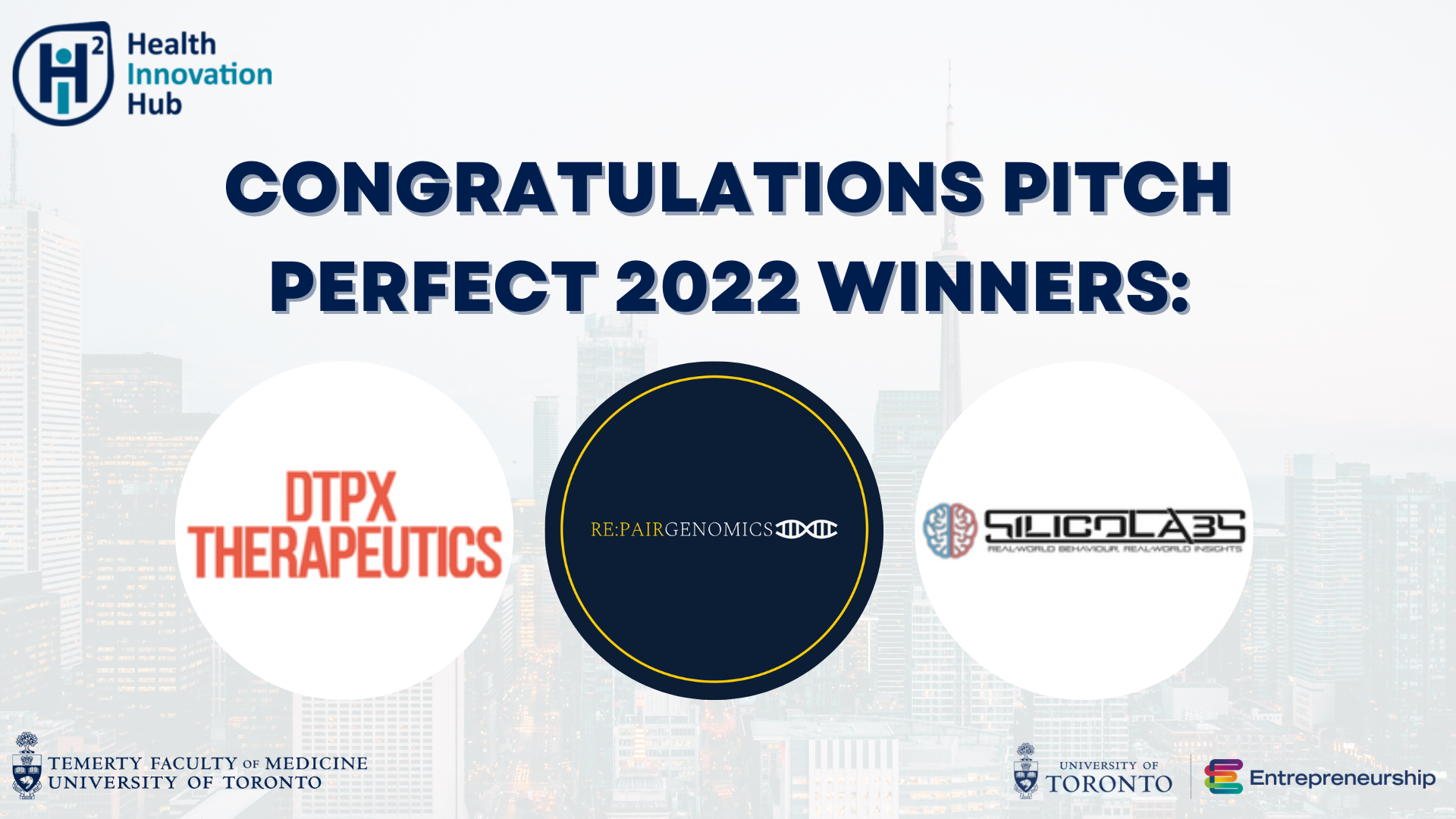 On Wednesday November 9th, 2022, H2i welcomed founders, students, faculty, mentors and more to Pitch Perfect 2022! Marking H2i's first in-person event since early 2020, just over 50 attendants gathered in-person or tuned in via livestream to watch the finalists pitch for their chance to win.
H2i's Pitch Perfect Competition is an annual Temerty Faculty of Medicine sponsored initiative focused on celebrating and supporting student innovations on health matters. ​Created to provide pitch competition opportunities specifically for earlier stage startups, it features six early-stage U of T student-led health ventures pitching for a chance to win one of three Student Innovation Fellowships.
This year, attendees and judges had the privilege to hear from six incredible emerging ventures looking to revolutionize the healthcare industry: Blue Ocean Technologies (presented by Anthony Yong), CHI Diagnostics (presented by Tafsia Hussain), DTPx Therapeutics (presented by Joshua Haebe), Laetech (presented by Brian Webb), Re:Pair Genomics (presented by Luca Hategan), and SilicoLabs (presented by Kyla Alsbury-Nealy).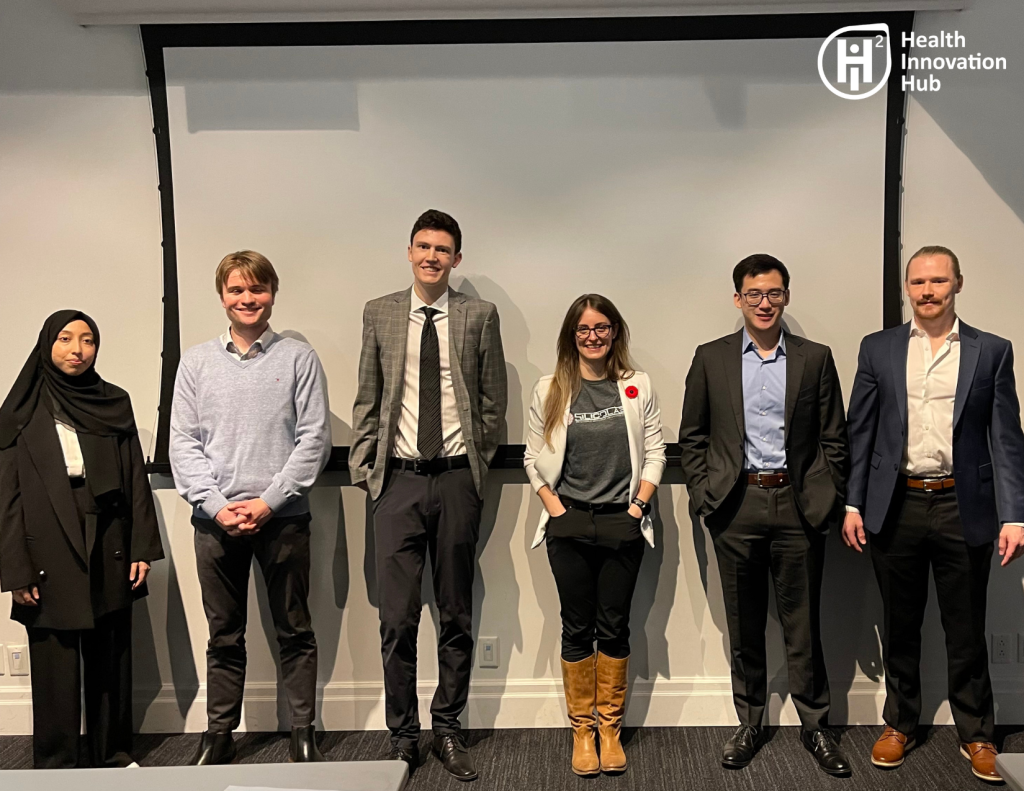 Each venture had five minutes to pitch their concept, followed by five minutes of Q&A with the judges. This year's expert judging panel was comprised of Patricia Houston (Vice Dean, Medical Education, Temerty Faculty of Medicine), Efosa Obano (Black Founders Network Founder & Manager), Paul Santerre (H2i Director) and Joseph Ferenbok (H2i Associate Director).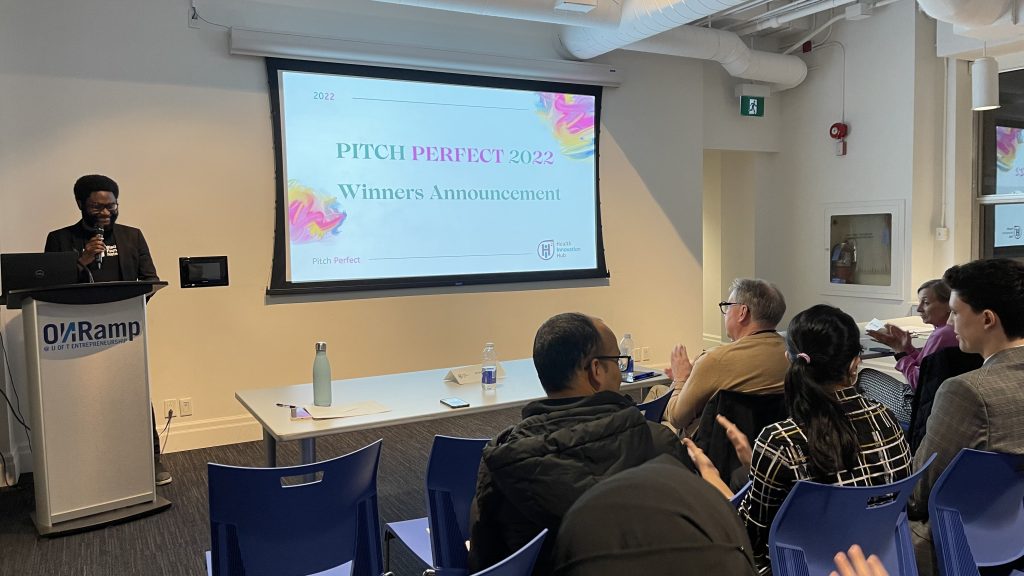 The competition was outstanding, as all six ventures offered innovative and compelling healthcare solutions. Ultimately, the judges selected the three winners and recipients of the $5000 Student Innovation Fellowships…DTPx Therapeutics, Re:Pair Genomics, and SilicoLabs. Hear from the winning teams below!
H2i would like to congratulate all six finalist teams, chosen from 37 entry applications, for their impressive work, and all those who attended to support them! As the first in-person event hosted in a number of years, it was incredible to see so many people passionate about health innovation gathered together. A big thank you as well to The Temerty Faculty of Medicine for their generous support in making this event possible.
Meet the Winning Teams:
DTPx Therapeutics is developing immunotherapy against hibernating drug tolerant cancer cells for colorectal cancer patients to alleviate the pain on patients and their families from refractory disease and ease the burden on the healthcare system.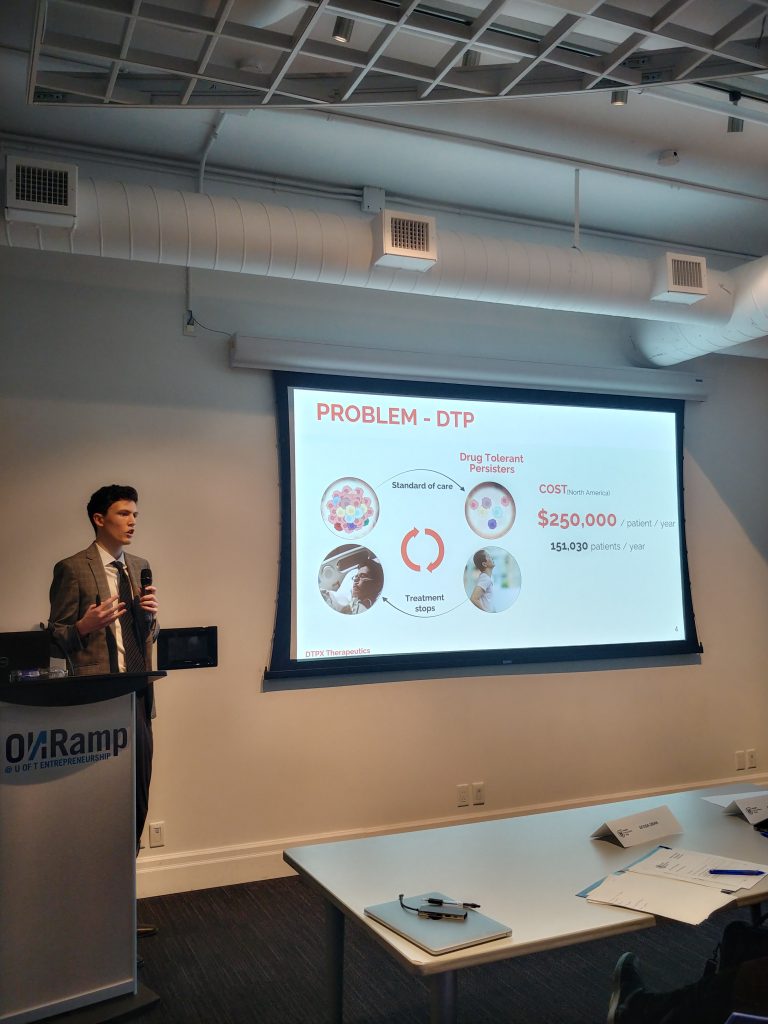 "DTPx Therapeutics is very excited to be one of the winners of the 2022 Pitch Perfect competition! Thank you to the judges and H2i team for the extraordinary opportunity to share our venture alongside our peers! Congratulations to the other winners!"

-Joshua Haebe, Target Development Lead, DTPx Therapeutics
Re:Pair Genomics is using machine learning to develop safer gene therapy treatments.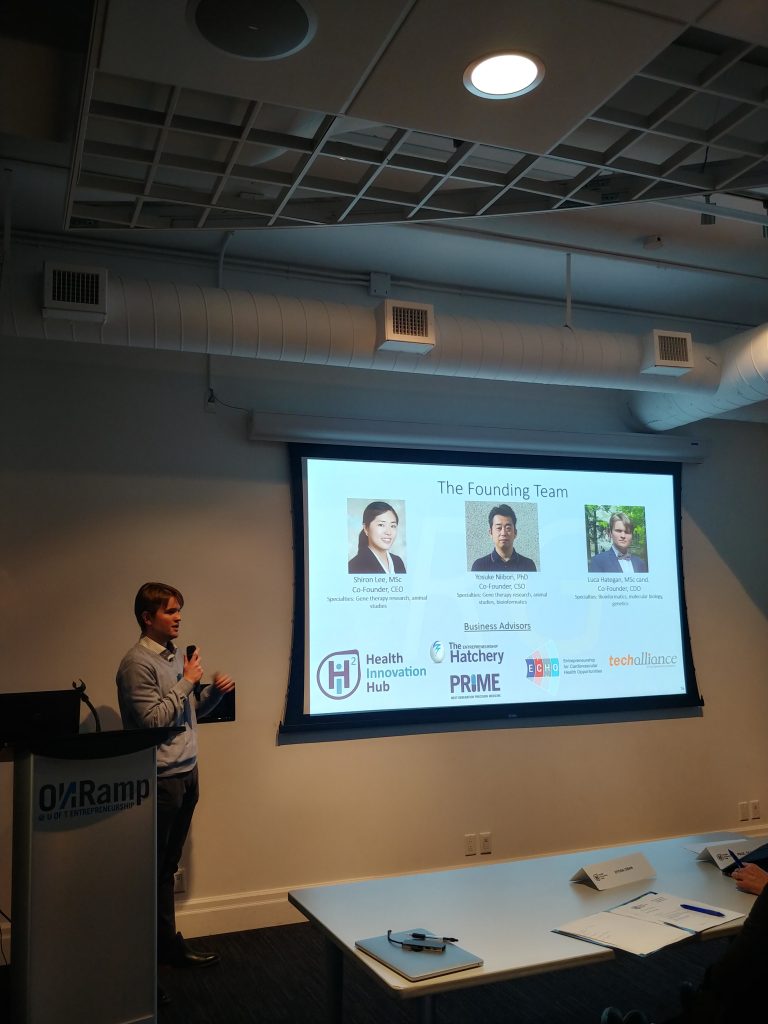 "Our experience at the Pitch Perfect pitch competition was a great opportunity to present our company to a panel of judges and receive valuable feedback. Being a new venture, this is an imperative first step, and we are really grateful that such contests exist. Winning the competition legitimizes our venture and allows us to pursue the next phases of our company's development. We intend on allocating the award funding towards wet lab research to further validate our technology."

-Luca Hategan Co-Founder & Chief Development Officer, Re:Pair Genomics
SilicoLabs is on a mission to make technology more accessible with their no-code tools for human and AI research. Software that allows anyone to quickly and easily create interactive real-world simulations to better understand, train, and test humans and AI.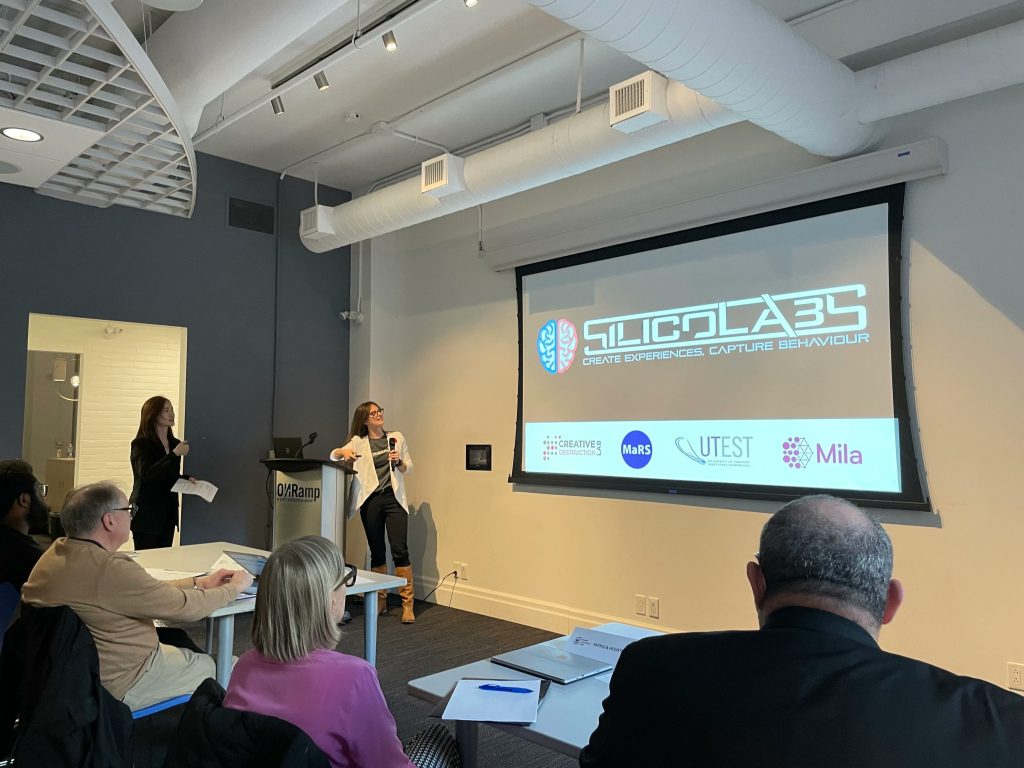 "It was an honour to represent the SilicoLabs team at Pitch Perfect and connect with other innovative startups at U of T! Thank you to the organizers at H2i and the judges for their insightful questions and enthusiasm about our company. This fellowship will certainly help accelerate us toward our next milestones!"

-Kyla Alsbury-Nealy, Co-Founder & Chief Experience Officer, SilicoLabs