UofT Entrepreneurs Apply Now for up to $7,500 in Financial Support!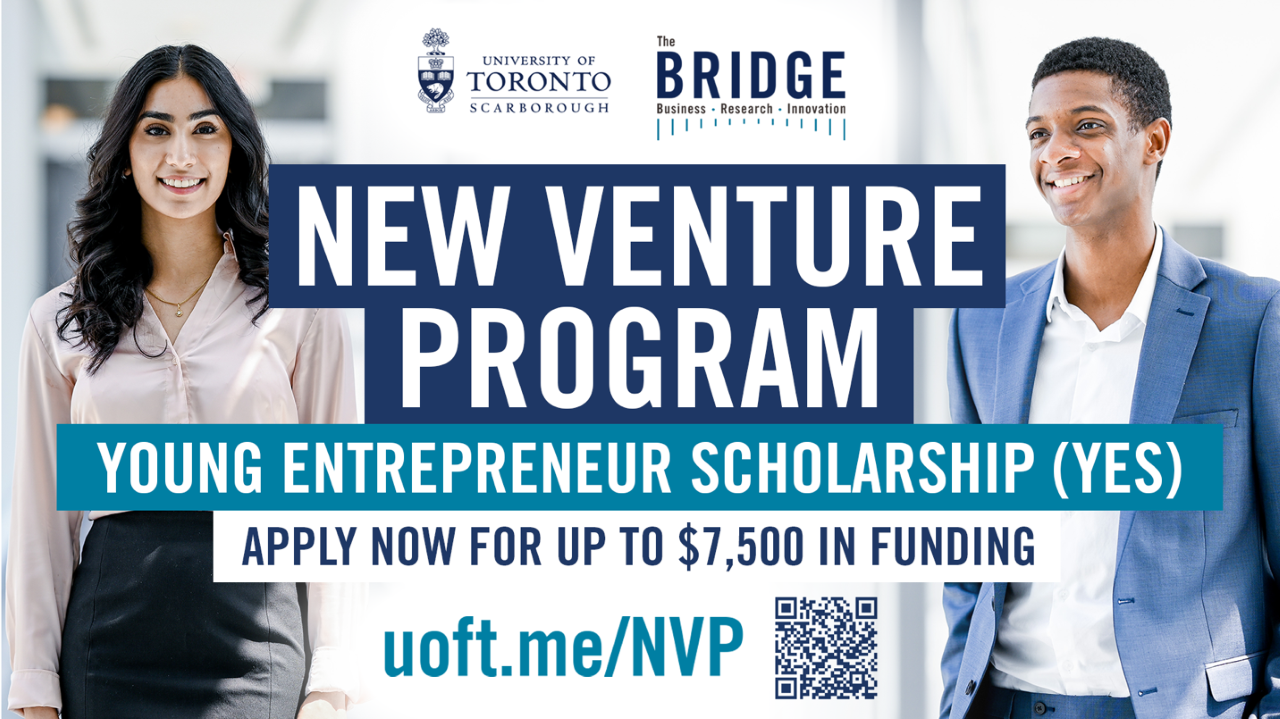 Attention UofT Students!
Are you a business owner or aspiring to become one? Would you benefit from financial support to balance your academic priorities with the responsibilities of launching and growing your new venture?
If you said "YES" then look no further! Applications are now open for the Young Entrepreneur Scholarship (YES) offering up to $7,500 in financial support for U of T student founders.
How it Works:
YES Awards will be split among participants in the New Venture Program (NVP), open to any student across each of the University of Toronto's three campuses. YES recipients will be invited to participate in an annual YES Entrepreneurial Retreat.

In-course awards will be renewable, contingent upon participation in the annual YES Entrepreneurial Retreat, as well as continued enrolment in the NVP, to be reviewed on a case-by-case basis through a committee review process. Eligibility for awards will be capped at four years.

To qualify, students must be eligible to enrol in courses. The program admits approximately 20 students per year. A preference will be made for domestic students, although special consideration can be made for international students.
Interested? Learn more and apply by January 15, 2023!
About the New Venture Program (NVP):
Open to U of T students from any program and campus, the NVP connects your academics with experience. NVP entrepreneurs sharpen their analysis, planning and management skills throughout the program. Through access to hands-on resources and support from others who have built rewarding careers as entrepreneurs, students develop best practices for developing and running an early-stage company, and practice the skills needed to build a great business. Students are supported in the creation of a comprehensive business plan, investor deck, and go-to-market strategy.
NVP students benefit from the following training modules:
Self-Assessment
Value Creation and Exchange
Validation Through Research
Product and Service Design
Supply Analysis
Financial Considerations for the New Venture
Writing Your Business Plan
Pitching Your Business
The NVP admits approximately 20 students per year. Learn more about the program and its admission requirements.