H2i 2023 Kickoff & Community Appreciation Night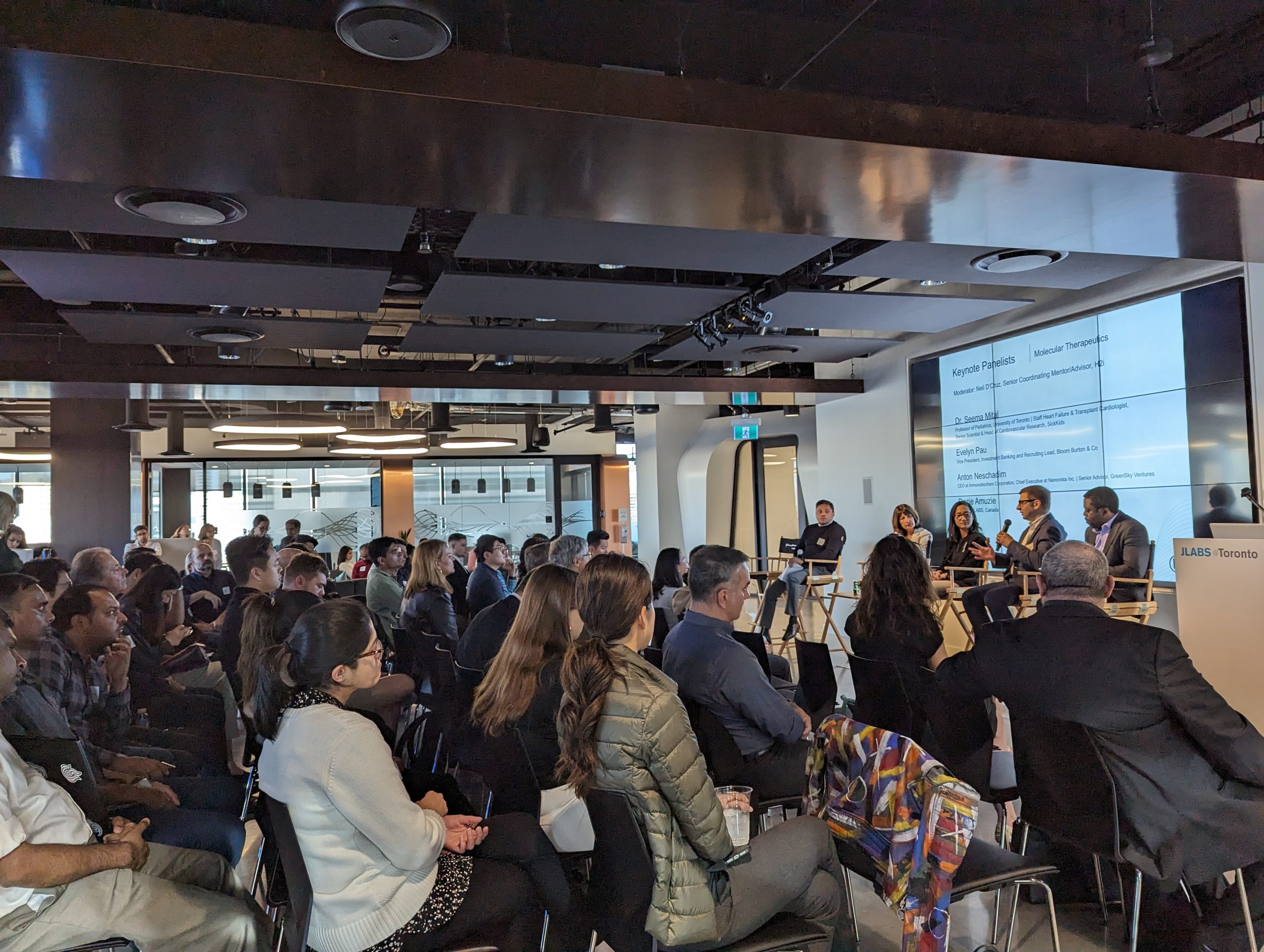 After a near decade of operations, H2i has grown immensely, and this past year left our community with much to celebrate. In 2022-23, H2i hosted over 116 events, and engaged over 130 mentors who provided over 2200 hours of mentorship. H2i supported 210 early-stage companies last year, who generated $162 million in 2022-23. H2i continued its advocacy for gender equity in health entrepreneurship through FemSTEM programming, finishing the year with 46% of H2i ventures being led or co-led by women—up from 28% in 2021. H2i also expanded programming internationally through its work as one of the African Higher Education Health Partners.
 On September 27, 2023, we celebrated these achievements with the annual H2i Fall Kickoff. This year's event was titled Igniting Innovation – An Integrated Talk and Networking Event and was hosted by H2i in partnership with JLABS @ Toronto. This event highlighted the power of collaboration and knowledge sharing within the Canadian health entrepreneurship space and provided a platform for H2i and JLABS networks to connect and engage. It was met with enormous success, and we were thrilled to have the opportunity to engage with 125 H2i community members in-person.  
The event began with opening remarks from Dozie Amuzie, Head of Johnson & Johnson Innovation, JLABS Canada, and Dr. Paul Santerre, Director of H2i. Professor Leah Cowen, Vice-President of Research and Innovation, and Strategic Initiative at the University of Toronto, continued to provide a keynote address.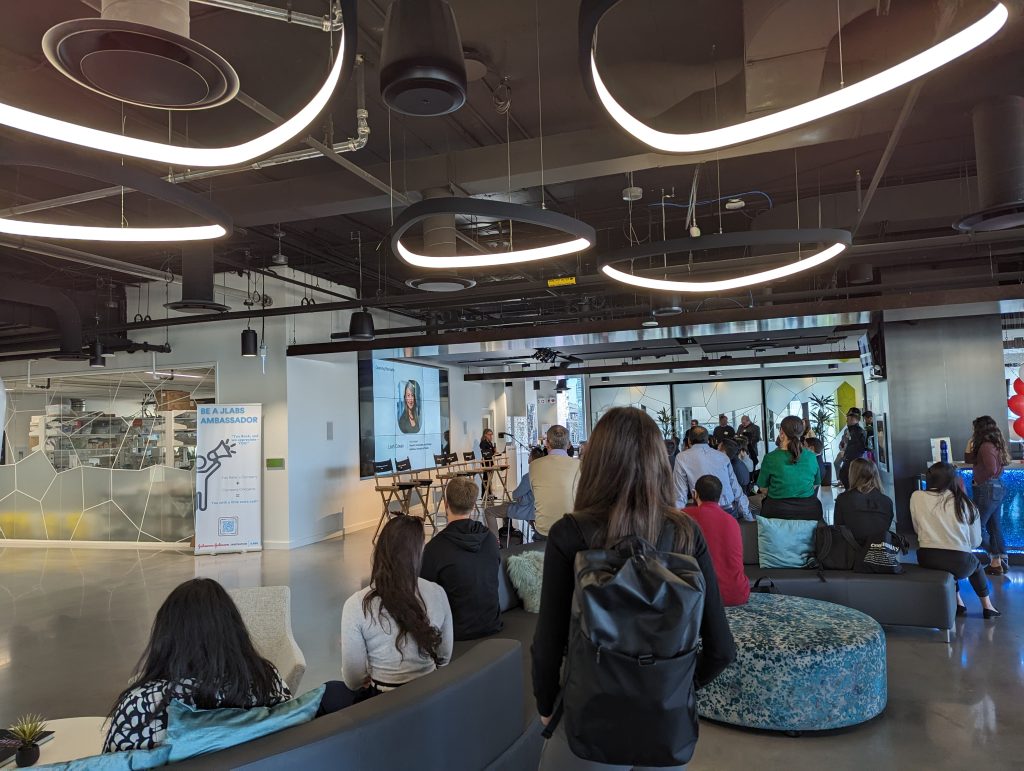 The opening speakers provided remarks on the landscape of health innovation in the molecular therapeutics field at University of Toronto, across the city, and beyond. Dr. Cowen and Dr. Santerre noted and celebrated the achievements of H2i's previous year and spoke to the impact of fostering innovation at the University.
The evening's feature panel discussion event was moderated by H2i's Neil D'Cruz, with four remarkable voices in the realm of molecular genomics:
Dr. Seema Mital, Professor of Pediatrics at the University of Toronto, and Staff Heart Failure & Transplant Cardiologist, Senior Scientist, and Head of Cardiovascular Research at the Hospital for Sick Children;
Evelyn Pau, Vice President, Investment Banking and Recruiting Lead at Bloom Burton & Co.; Vice President of External Collaborations at Medicenna Therapeutics
Anton Neschadim, CEO of ImmunoBiochem Corporation, Chief Executive at Nanovista Inc., and Senior Advisor at GreenSky Ventures; and
Dozie Amuzie, Head of Johnson & Johnson Innovation – JLABS Canada.
Concluding the panelist discussion was an audience question-and-answer period and closing remarks, moderated by H2i's Dr. Joseph Ferenbok, followed by a networking session among all attendees.
Three main themes that arose throughout the panelist discussion were:
Team building is especially important for the success of all ventures;
Learning through times of challenge can help ventures secure the partnerships and funding needed; and
The future is bright for innovation in the molecular genomics field.
If there is one thing that all entrepreneurs can agree on, it is the importance of forming a strong and dynamic team, built to tackle various challenges through different areas of expertise.
Amuzie referred to a well-balanced team as an ecosystem, sharing that, "Ventures need an ecosystem that can understand all aspects of an idea or product that you are aiming to bring to life. Each ecosystem has strengths, and those strengths are where you have domain expertise. Leverage the areas where you can build a strong ecosystem."
It is true that strong teams drive the entire trajectory of a venture's success, as partnerships and access to funding require collaboration to acquire. Pau noted that even while partnership deals are still moving forward, there is a vital need to put forth a strong front for target validation, and proof-of-concepts for technology and preclinical stage data.
Neschadim attested to this advice by suggesting that, although there is a tough climate upon ventures for access to capital at the current time, there are other opportunities to access funding, such as strategic partnerships. Neschadim also noted that, "the bar is set higher and investors like to see a dynamic picture of how the venture performs and overcomes challenges."
Lastly, when reflecting on the pandemic and how it reshaped the way many ventures think, operate, and develop, all panelists agreed that COVID-19 has changed healthcare innovation in positive ways.  Pau shared that, "Innovation is now on the forefront. There are a lot of new opportunities coming for ventures because there have been so many innovations over the period of COVID-19, but in this current cycle, the sector is looking for ventures with a novel approach with better technology, stronger scientists, and better teams."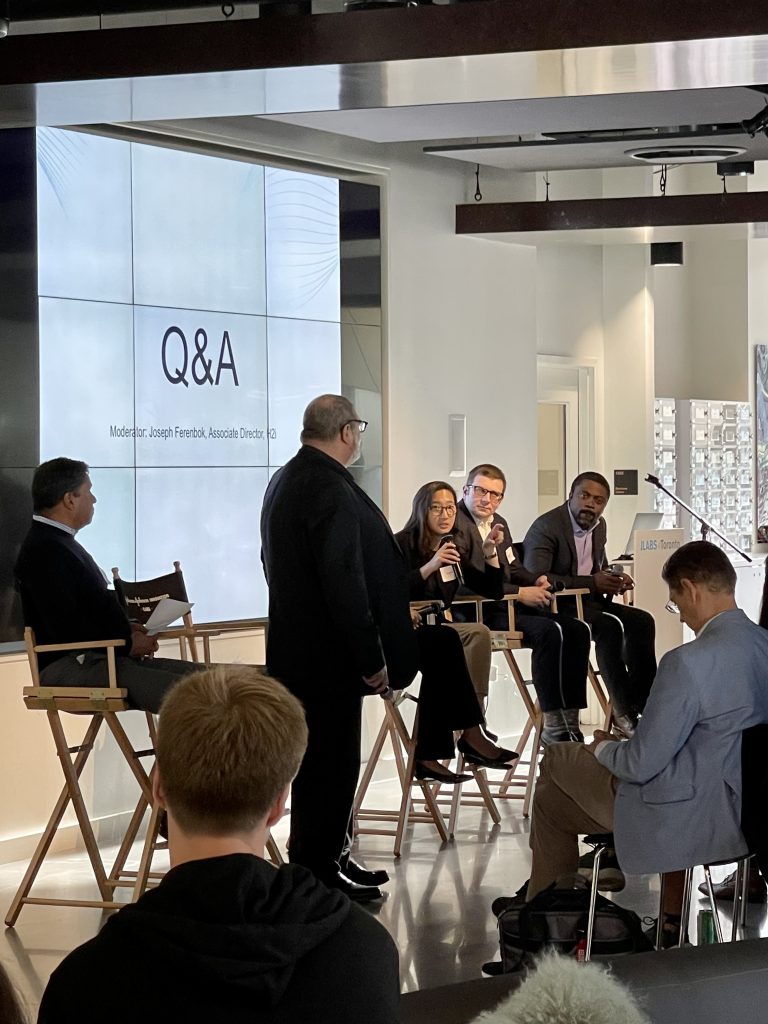 In agreement, Dr. Mital noted, "The future is bright because there is finally movement in the right direction. Engaging clinicians and patients early in the process is important."
H2i would like to thank all guest speakers and attendees for their participation in this event and for their continued support of the H2i community. The incredible growth seen in this past year provides a glimpse of the exciting future that lies ahead of us, and we could not have come this far without our incredible community and partners.
Looking ahead, H2i is excited to gather the H2i community together again, as we ramp up for our Pitch Perfect Competition on Tuesday, November 14th. We hope to see you there! 
allTags
No allTags saved to the post yet …