FemSTEM 2022 Kickoff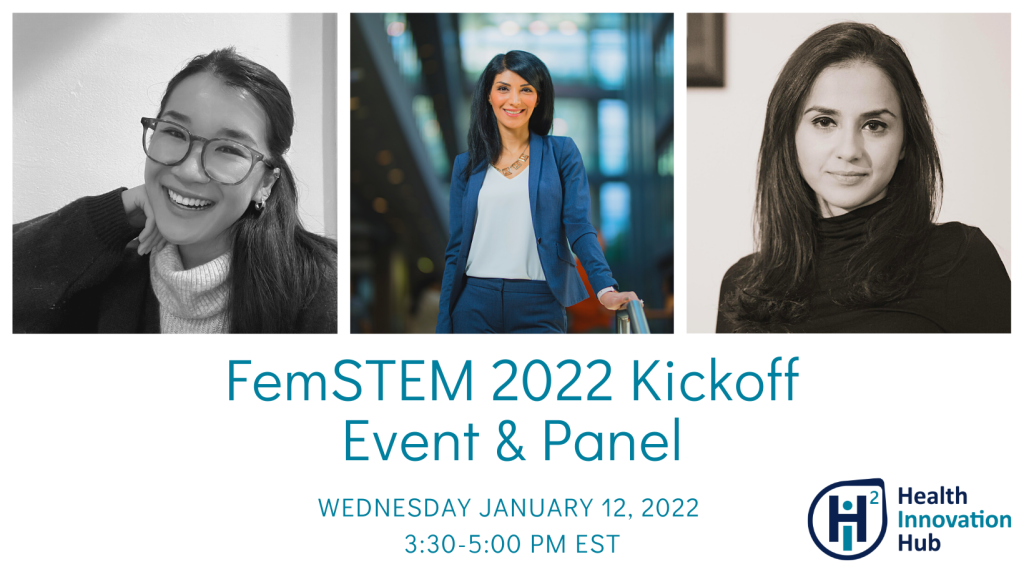 Join us Wednesday January 12th 2022 as we kickoff our 2022 FemSTEM programming!
This year's Kickoff will feature both a panel and an interactive discussion and networking session. The panel will celebrate three incredible entrepreneurs: Catherine Chan, Rabia Khan and Soror Sharifpoor. Join us to learn about their journeys and experiences in commercializing in the health care sector. We'll dive into how they got started and take questions form the audience as well.
All are welcome to join: students, faculty, staff, alumni & members of the H2i community!
Meet Our Panelists: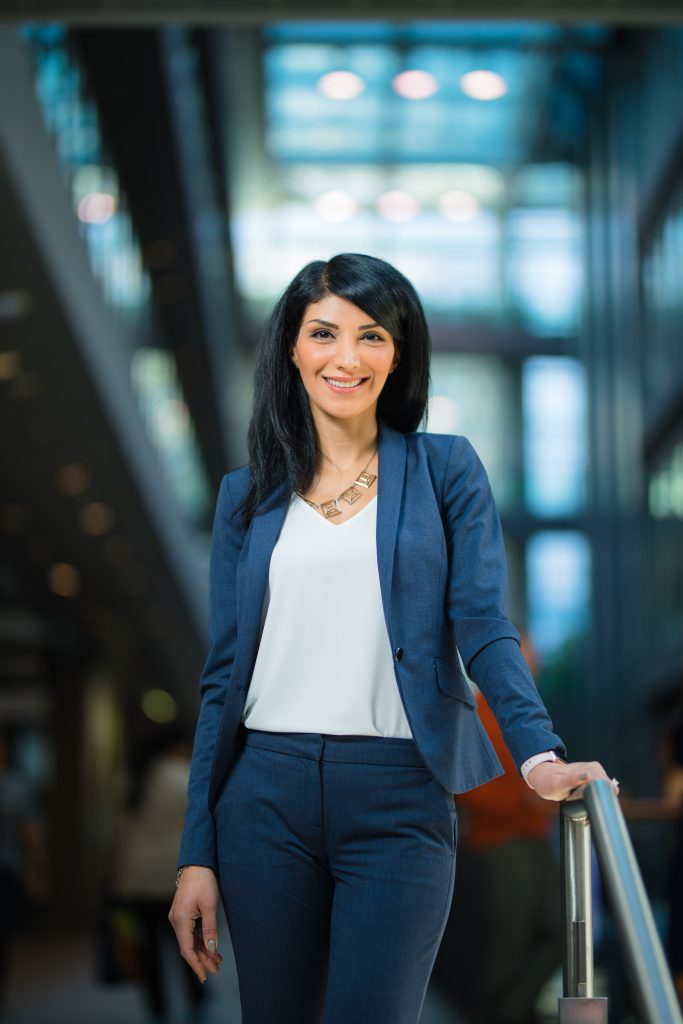 Dr. Soror Sharifpoor is the Director of Strategy & Translation at the Translational Biology and Engineering Program (TBEP) within the Ted Rogers Centre for Heart Research. She joined TBEP in 2017 and has been involved in the fostering and implementation of sustainable research plans, successful partnerships, scientific and clinical translation strategies, an entrepreneurial ecosystem, and multifaceted training programs in the cardiovascular health sector.
She is also the co-founder of Entrepreneurship for Cardiovascular Health Opportunities (ECHO), where she has been facilitating research translation and start-up creation. Launched in 2018, ECHO is a national entrepreneurship training and mentorship program for innovators of cardiovascular technologies.
Dr. Sharifpoor has over 15 years of academic and industrial experience in the fields of biomaterials, biomedical engineering, and regenerative medicine, specializing in cardiovascular and soft tissue research and innovation. From 2016 to 2020, she served as the Chief Executive Officer of Polumiros Inc., a biomaterials start-up company that she co-founded. While at Polumiros, she led the development of a novel immunomodulatory polymer platform technology and was pivotal to fundraising as well as regulatory and commercialization strategy development. Prior to joining Polumiros, she served as an associate research engineer at Interface Biologics Inc., where she was involved in the commercialization of innovative biomaterials for improving the efficacy of medical devices and targeted drug delivery.
Dr. Sharifpoor received her Bachelors at the University of Toronto (Engineering Science – Biomedical Engineering major), her Masters at Queen's University (Chemical Engineering) and her PhD at the University of Toronto (Biomedical Engineering). She has been the recipient of several fellowships and awards, most notably FACIT's Ernsting Entrepreneurship Award and the Norman F. Moody Award for Academic Excellence.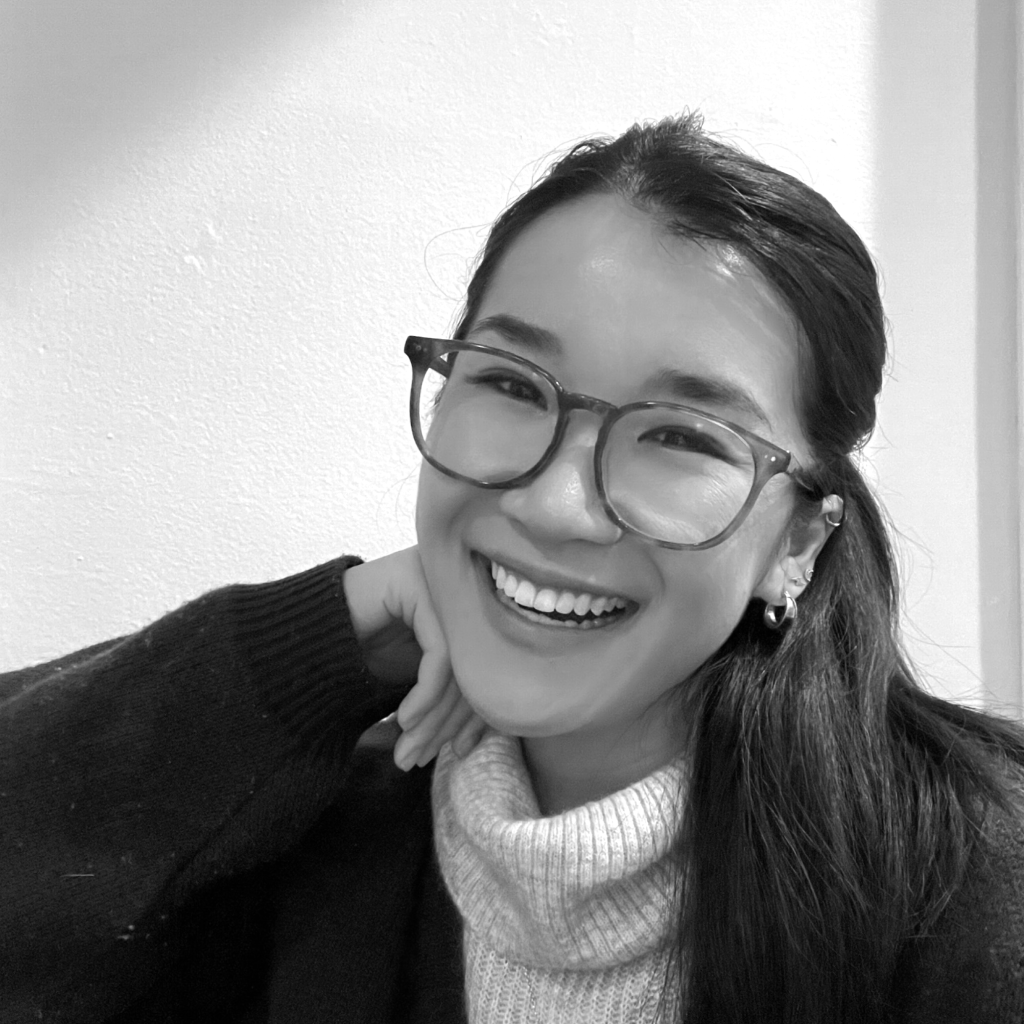 Catherine is an entrepreneur and co-founder of Honeybee, a marketplace that connects people with paid health research studies on a web and mobile app.

Having worked in academia, hospital, government and industry as a clinical researcher, she built Honeybee to:
1) help researchers recruit faster and
2) help everyone gain equal and fair access to health research participation.
She's also an artist and content creator, and excited to release her first collection of 100 NFTs over the holidays.
Rabia holds a PhD in immunogenetics from McGill University and an MBA from Concordia University. She is the founder and CEO of Ladder Therapeutics, a Y-Combinator backed biotech focused on unlocking the potential of RNA biology to advance drug discovery and development.
Ladder Therapeutics was founded on the principle that targeting RNAs (the transcriptome) will unlock novel biology. The Company is building the first map of the druggable transcriptome to accelerate the discovery of new treatments for disease.
Prior to founding Ladder Therapeutics Rabia was Managing Director, Discovery Sciences at Sensyne Health plc where she established the scientific strategy, built the data science and discovery teams recruiting over 50 machine learning and clinical researchers in 6 months, and was responsible for delivering a number of significant pharma partnerships including Bayer, BMS, Roche and Alexion.
Rabia has also held senior roles at BenevolentAI and Meta. At Meta (acquired by Chan Zuckerberg BioHub), she was pivotal in the partnership with the Intelligence Advanced Research Projects Activity (IARPA) to acquire horizon-scanning technology that used NLP to research the biomedical corpus. At BenevolentAI, she helped shape the discovery strategy, and led the Age-Related Macular Degeneration and Glioblastoma drug discovery programs and served as the interface between the technical and biological teams alongside Prof. Jackie Hunter.
Rabia regularly presents on embracing the intersection of healthcare and technology to advance better patient outcomes and advocates the importance of STEM in industry and education. She was named as 50 Movers and Shakers in BioBusiness and 30 Rising Leaders in Biotech 2020 .
What is FemSTEM?
A multi-event series, our FemSTEM program looks to inspire, engage, and celebrate women entrepreneurs.
Our goal at H2i is to grow the infrastructure, practice, and local culture to translate discoveries and ideas into problem solving designs, services and product. We do this through building connections, linking people with mentors, resources, researchers, key opinion leaders, and professionals to help them translate, defuse, and scale discoveries.
With this simple but extraordinarily effective model, we've been able to support a record number of ventures commercializing their health innovations.
FemSTEM is our dedicated program focused on fostering an increasingly diverse and inclusive community. We are committed to supporting women and building valuable, diverse connections, uplifting women in STEM who are looking to create their own business.
FemSTEM runs between January and March each year with panels, fireside talks, and a pitch competition:
FemSTEM 2022:
Kick Off & Fireside Panel :
Wednesday January 12th 3:30 – 5:00 PM
Fireside Talks:
Wednesday February 2th 4:00 – 5:00 pm
Wednesday February 16th 4:00 – 5:00 pm
Wednesday March 9th 4:00 – 5:00 pm (join us as part of UTE's EntWeek)
Pitch Event :
Thursday March 24th 3:00 – 5:00 PM
Stay tuned: registration for all events to come!
Date
Wednesday, January 12, 2022
3:30 pm – 5:00 pm EST
Where
Virtually, via Zoom
allTags
No allTags saved to the post yet …