H2i Fall Kick-Off Event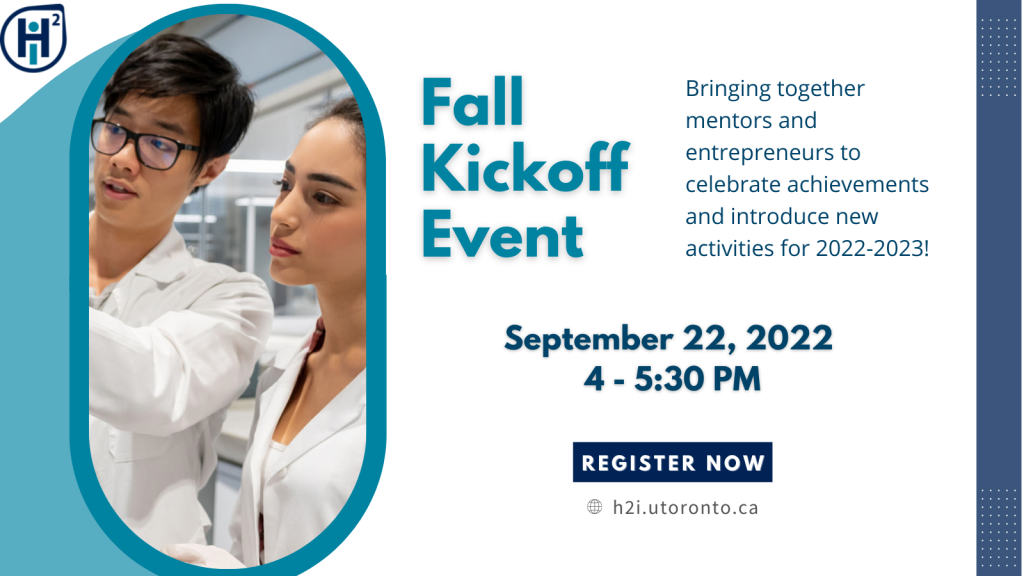 During this past year, H2i supported 191 early-stage companies, hosted over 100 events, and engaged over 125 industry mentors!

H2i is focused on continuing to meet the needs of our stakeholders and looks forward to helping Toronto achieve significant growth and international visibility as an innovating entrepreneurial community.

To celebrate this growing community and its achievements, on behalf of the H2i Team, we would like to invite you to attend H2i's Fall Kick-Off Event on Thursday September 22nd from 4:00-5:30 PM EST on Zoom to meet fellow H2i Mentors, Advisors and Key Opinion Leaders as well as our ever-growing list of execution-focused H2i entrepreneurs, who have just finished a record value generating year of $157M.

The event will feature four vignettes on leading edge topics (see below) that are creating significant shifts in the economics of health. Speakers will come from expert mentors, and a Q&A period will follow with questions polled from the H2i venture community:
Artificial Intelligence
Molecular Biology Revolution
Senior Care Rehab
Mental Wellness
The above feature will be followed by a short breakout period, where you can meet fellow H2i community members and engage in discussion with your peers. While we wish this could be in-person, we know that there is still much caution around Covid19 in the community for Fall 2022.

Note to H2i ventures!
This year, questions for the panel discussions are driven by you, please feel free to share your questions related to any of the four themes with us at info.h2i@utoronto.ca.

If you would like to know which questions are on the top of the ecosystem's minds, please join us on September 22 and check it out!
Date
Thursday, September 22, 2022
4:00 pm – 5:30 pm EST
Where
Virtually, via Zoom
allTags
No allTags saved to the post yet …