CDL Pre-Application Mentorship Program
Strengthen Your Venture and Shape into a Competitive CDL Applicant
Each year, the H2i community comes together to help our Level 2 and 3 companies prepare for applying to the Creative Destruction Lab. Our program involves 5 easy steps to strengthen your venture and shape you into a competitive CDL applicant.
Program Details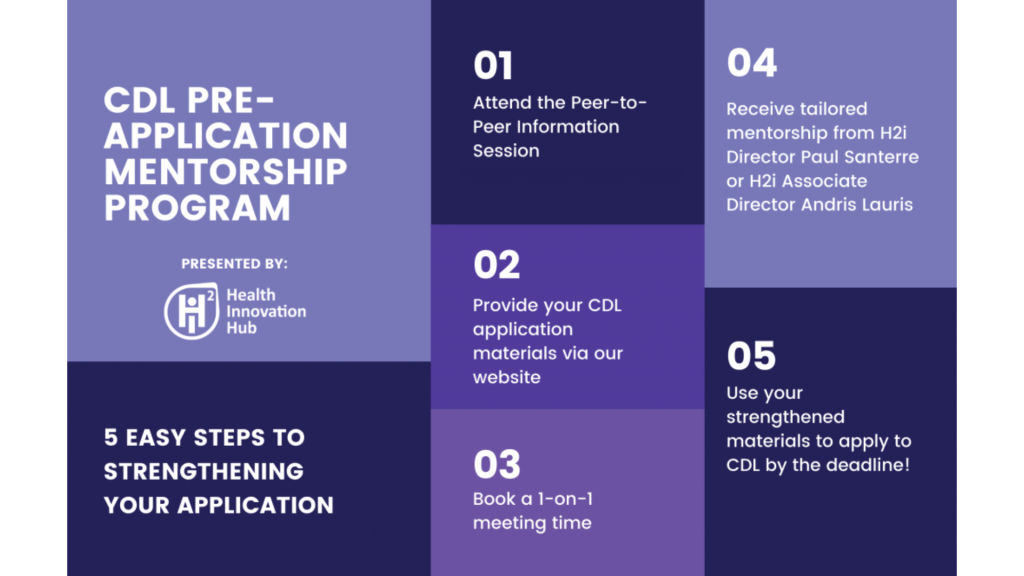 Please note that this program is a closed program and only available to current H2i Level 2 and 3 client companies.
Key Dates for Spring 2023 Program
Peer-to-Peer Information Session | June 21 @ 12:00-1:30 pm EST
Application Review – To take part, submit the below form by July 5th 2023 11:59 PM EST.
1-on-1 Mentorship Meetings
Info Session:
This event is open to H2i client companies only. An invite will be sent to register for the Pre-Application Information Session to be held on Wednesday, June 21 from 12:00-1:30 pm EST. The panel will feature fellow H2i clients who have experience within the CDL program.
This year's panel will feature:
Zaid Atto (Founder & CEO, Xpan Inc.)
Pimyupa Manaswiyoungkul (Cofounder, HDAX Therapeutics)
Cameron Stewart (CEO & Founder, Mesosil)
Joel Ironstone (President & Principal Consultant, Ironstone Product Development)
Following the 40-minute panel discussion chaired by H2i Director Paul Santerre, there will be a 30-minute Q&A.
Please note this information session is a closed event for H2i ventures only.
Apply for 2023 Pre-Application Mentorship
Applications for H2i's Pre-Application Mentorship are open until July 5th, 2023, 11:59 PM EST.
This form is currently closed for submissions.
Questions?
Please visit the CDL website for more information, or email info.h2i@utoronto.ca.
DISCLAIMER: H2i and all affiliated client companies do not guarantee successful intake into the CDL program. All opinions expressed herein on this webpage and at program events are speakers' own and do not reflect CDL nor H2i as a whole. H2i level 2 and 3 companies engage with this program at their own discretion and understand that H2i is not responsible for application outcomes.