Entrepreneurship Week 2023: H2i Recap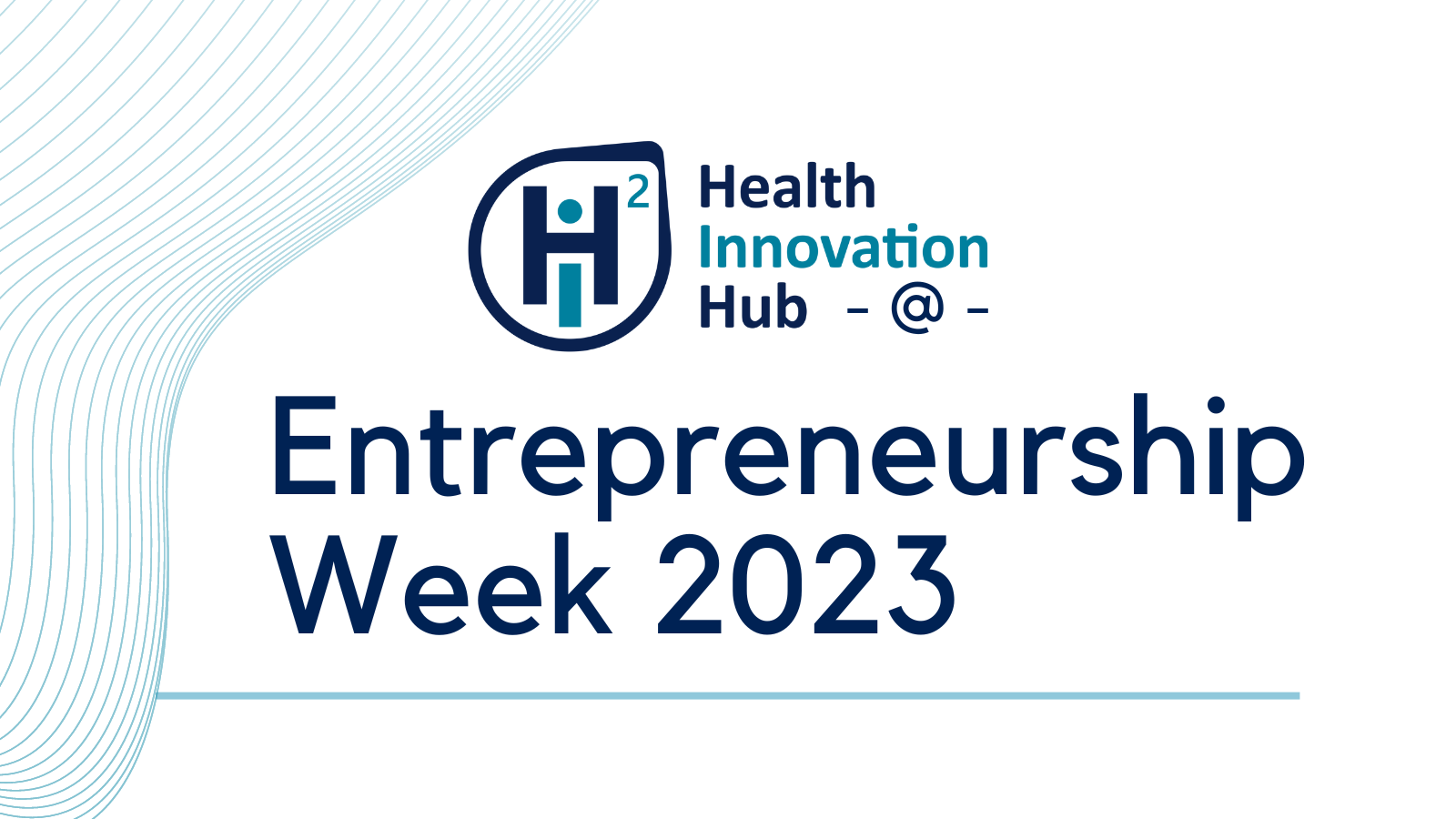 Entrepreneurship Week 2023: H2i Recap
This week, 1000+ founders, aspiring entrepreneurs, students, faculty, and industry partners gathered across the three campuses for Entrepreneurship Week 2023! Hosted annually by University of Toronto Entrepreneurship (UTE), this week celebrates and showcases the innovation happening across the three campuses, and welcomes folks from the university and beyond to join in on discussions of current topics in entrepreneurship.
In case you missed it, we wanted to take you through a recap of 4 days at Entrepreneurship Week 2023 with H2i…
Monday: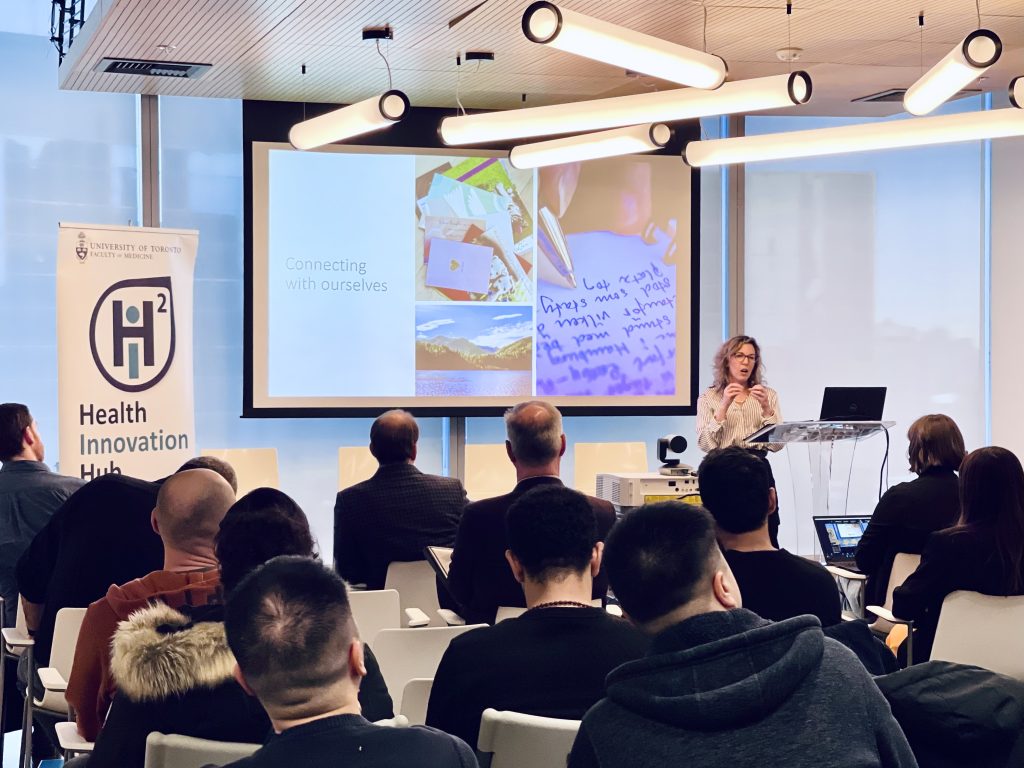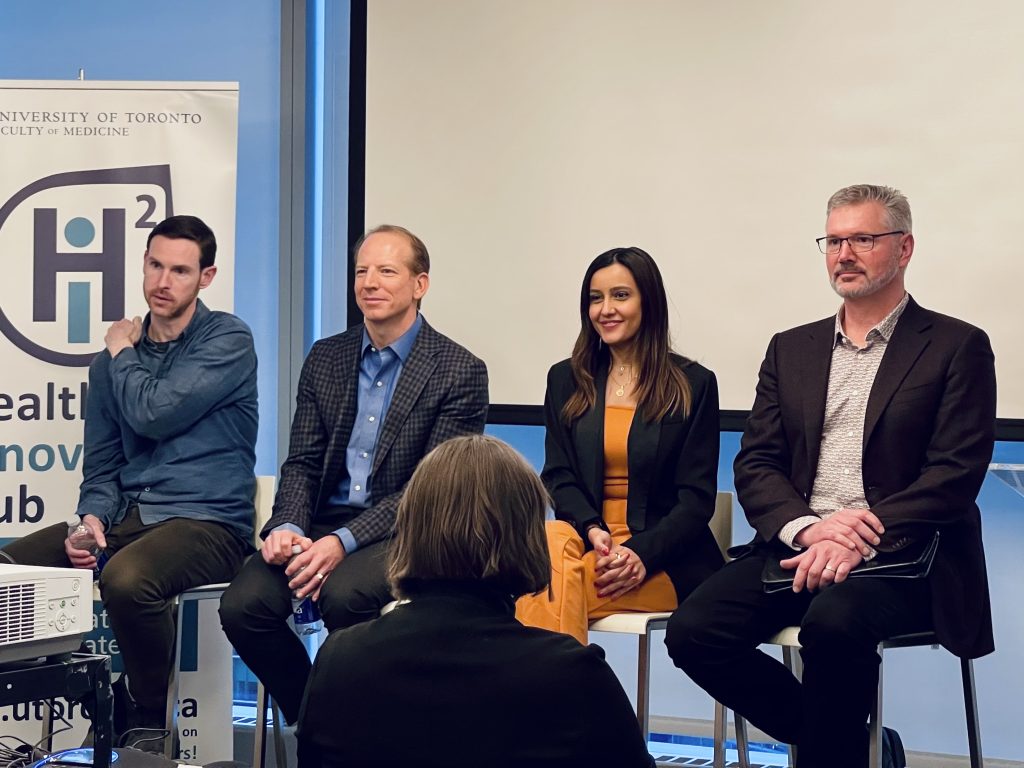 H2i kicked off Entrepreneurship Week by hosting Stress Management & Mental Wellness for Entrepreneurs. A fixture of Entrepreneurship Week for a number of years, the event features a keynote address, guided meditation, a panel of founders, and an audience Q&A. This year, we were joined by Lauren Brown as keynote speaker (PhD candidate; Program Coordinator for Mindfulness, Meditation & Yoga at the Division of Student Life). Brown emphasized the distinction between functioning well and feeling good and explored what she calls the ABC's of mental wellness: Awareness, Balance, and Connection. She invited attendees to visualize a set of drawers, with the top drawer filled with our work. If only the top drawer is filled, the chest of drawers is imbalanced and topples over. Brown asked the audience to imagine achieving balance by filling each drawer: with hobbies, connection to others, meaningful experiences and more.
The panel followed, and consisted of Dalia Ahmed (Co-Founder & Chief Clinical Officer, Mind-Easy), Gary Margolis (CEO, Notogen Inc.), Liam Kaufman (CEO & Co-Founder, Winterlight Labs), and Frank Shannon (Vice President, Clinical Development & Regulatory Affairs, Sernova Corp) as moderator. The discussion covered a range of topics including how to handle rejection, the impact of the pandemic on mental health, and tangible strategies for taking care of their own mental health and that of their employees. A key theme which arouse was the opportunity that leaders have to model behaviour which encourages wellness. Another was the importance of meaning-making and ensuring a shared mission and values. Recalling the importance of balance, as explored by Brown, Ahmed remarked, "You are more than your company. You are a human being. You bring value to the world."
Tuesday:
On Tuesday, H2i continued its Entrepreneurship Week traditions, by hosting its third Fireside at FemSTEM as part of the week's events. This also marked the first FemSTEM event hosted in person in 3 years. The session welcomed Lesley Gouldie, President & CEO of Thornhill Medical, as special guest. Under Gouldie's leadership, Thornhill Medical, a company focused on pioneering innovative approaches to emergency patient care in challenging environments, was able to rapidly scale to meet the demands of COVID-19 and the war in Ukraine. Gouldie reflected on the importance of "being ready" and what the pandemic has taught us about emergency preparedness.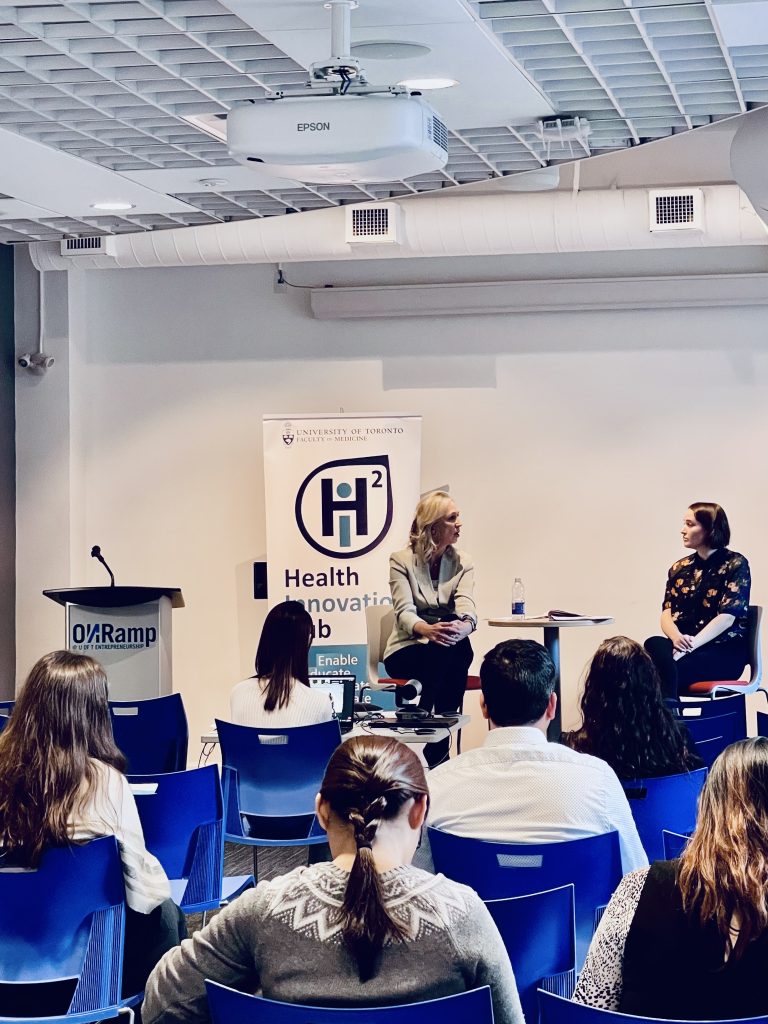 She stressed the importance of sales training for anyone looking to start a company, citing the importance of these skills for securing partnerships and investment. A highlight of the Fireside at FemSTEM series is always the interactive conversation between attendees and special guest. This session was no different, with engaging questions and comments from the audience throughout on topics ranging from business development, IP strategies and recruiting the right team.
Wednesday:
In honour of International Women's Day, UTM's ICUBE held its annual Pitch With a Twist competition. The competition features early and later stage companies led by women-identifying founders. This year, H2i venture Cove Neurosciences competed in the late stage category and took home the 2nd place prize! We caught up with CEO & Co-Founder Nardin Samuel, who presented the winning the pitch, who shared more about the experience and what the mean wins to their team:
"We were so thrilled to have participated in Pitch with a Twist during the University of Toronto Entrepreneurship Week! It was a fantastic event showcasing inspiring female-led businesses. This win is so meaningful for us at this stage and will help fund legal support for our recent partnerships." -Nardin Samuel, CEO & Co-Founder, Cove Neurosciences
Thursday:
The final day of Entrepreneurship Week boasted a packed day of exciting events. "True Blue Impact Day" took place at MaRS, complete with the True Blue Expo, the Desjardins Startup Prize Pitch Competition, and a keynote address by Raquel Urtasun, CEO & Co-Founder of self-driving technology startup Waabi. Eleven H2i ventures were exhibitors at the True Blue Expo: Arma Biosciences, Cove Neurosciences, Hypercare, Laetech, MedEssist, Mesosil, Mind-Easy, Pearl Interactives, Shiphrah, SilicoLabs and Specifix Dx.
Four current H2i ventures competed for $100,000 in prizes at this year's Desjardins Startup Prize, presenting their pitches to expert judges Mehdi Bakhty, Eva Lau and Mike Murchison. Every team did a phenomenal job of presenting their innovative projects…and every H2i team took home an award!
Early Stage Competition
SilicoLabs
1st Place ($15,000)
Pitch Presented by Kyla Alsbury-Nealy, Co-Founder & COO
"SilicoLabs was thrilled to share our vision and company with a packed house and such fantastic judges! With the prize money, we will run more hands-on demos at academic institutions, accelerate our marketing campaign, and build a community of our users for greater collaboration. Thank you, U of T and Desjardins!"
-Kyla Alsbury-Nealy, Co-Founder & COO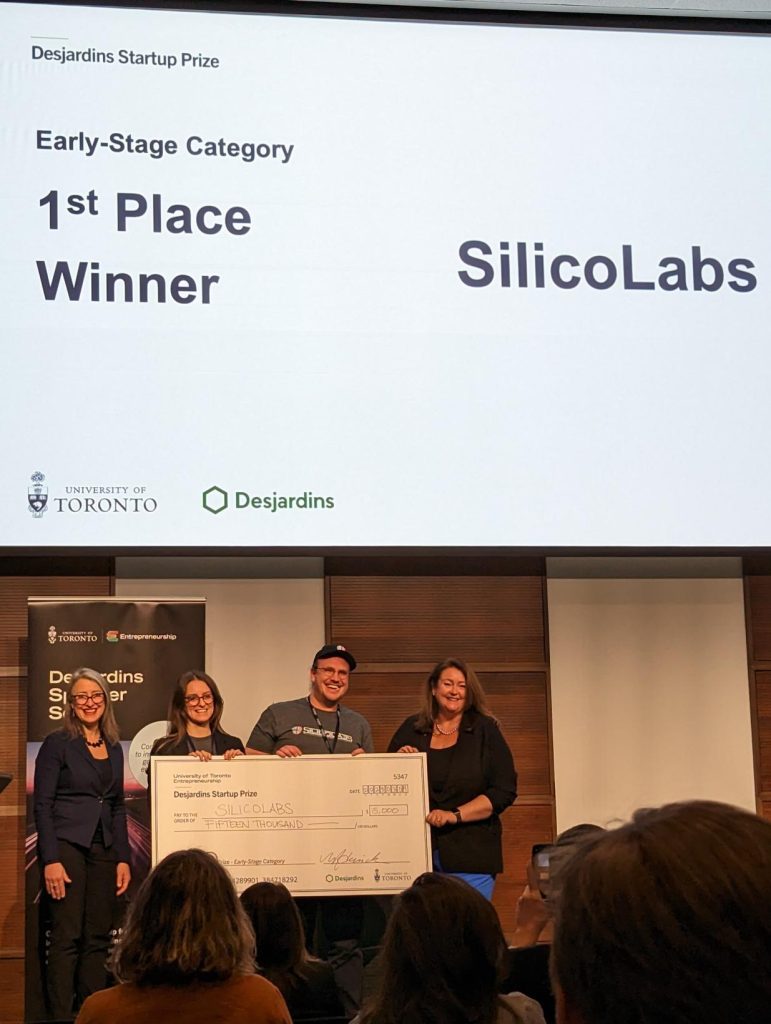 Laetech
2nd Place ($10,000)
People's Choice ($4000)
Pitch Presented by Brian Webb, Founder & CEO
"We greatly appreciate the judges and organizers time and want to thank H2I for their help in getting us preparing for the pitch. The winnings will have significant contribution towards us moving the venture forward."
-Brian Webb, Founder & CEO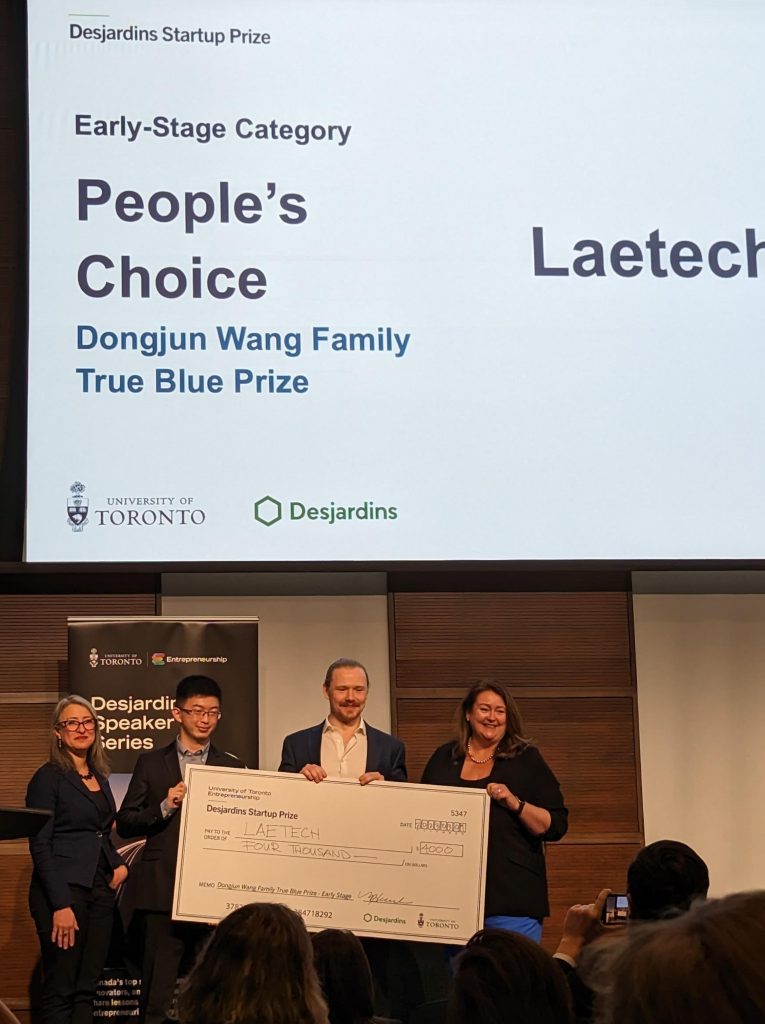 Specifix Dx
3rd Place ($5,000)
Pitch Presented by Co-Founders Jennifer Jenkins (CEO), Jaspreet Randhawa (CTO) & Siobhan Wilson (COO).
"The Expo was a wonderful opportunity to meet fellow entrepreneurs and explore the entrepreneurial ecosystem of the university. We also came in third place in the Desjardins early-stage Startup prize pitch competition, which is a great honour! The whole event was a learning opportunity, and we thank the judges for their time and feedback. The funds we won will go towards our future proof of concept for UroStix."
–Jessica Jenkins, CEO & Co-Founder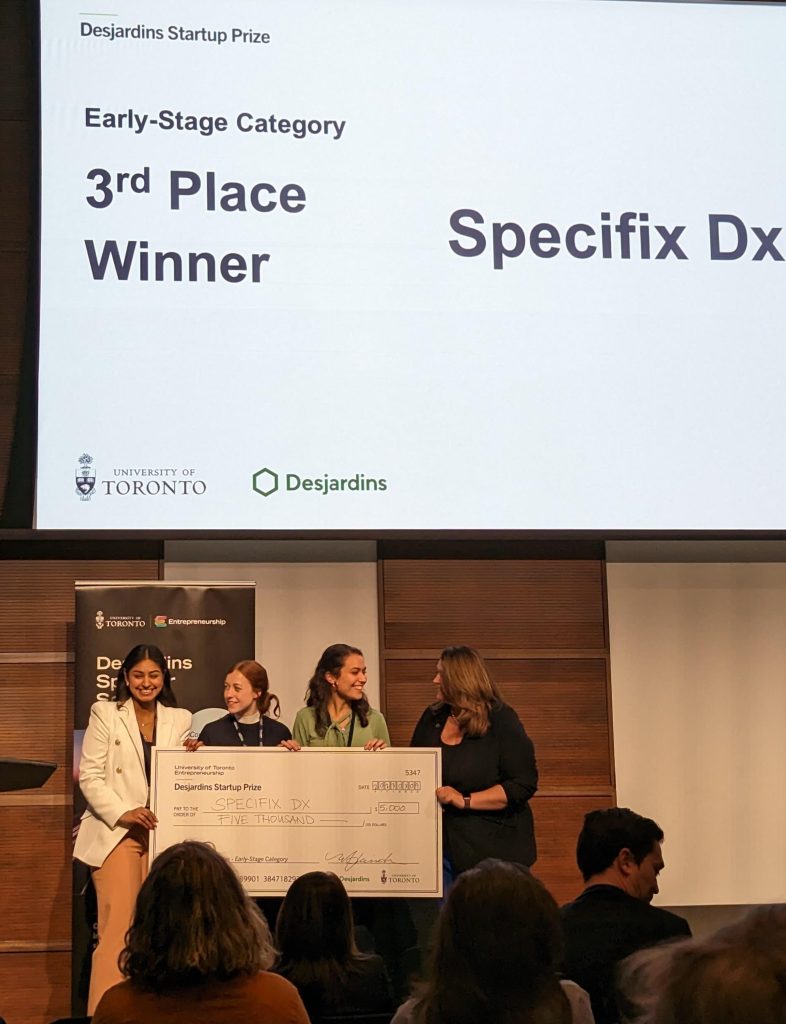 Later Stage Competition
Shiphrah Biomedical Inc.
2nd Place ($20,000)
Pitch Presented by Co-Founders Allan Kember & Salim Kandedi
"We are honored to have had the opportunity to participate in the later stage Desjardin Startup Prize competition and stoked to have placed 2nd among so many talented companies at our esteemed institution! We'll use these funds to get our video-based sleep models into research and clinical practice – a massive win for us, for pregnancy, and for downstream maternal and child health."
-Allan Kember, Co-Founder