*Deadline Extended*: Pitch Perfect 2023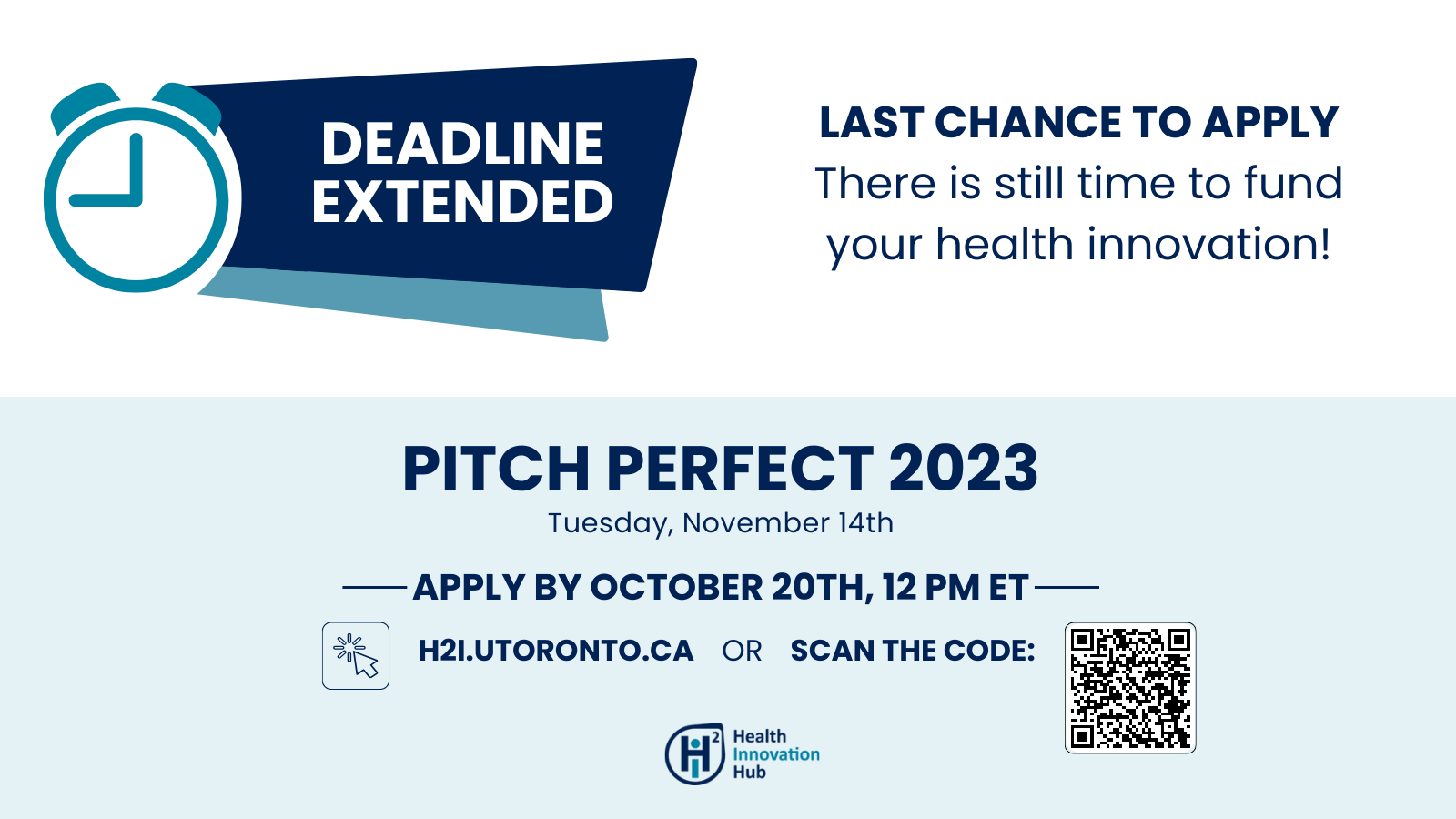 Pitch Perfect is a Temerty Faculty of Medicine and Health Innovation Hub (H2i) initiative to celebrate and support student entrepreneurs working on health focused innovations. Each fall, six student-based ventures are selected to pitch their concept to a panel of expert judges for the chance to win one of three Student Innovation Fellowships of $5,000 to help develop their project further.
Learn about last year's competition & winners here!
Key Dates:
Applications Open: Tuesday, September 26th
UTL Market Research Workshop: October 11th, 12-1 PM ET (See bottom of page for details)
Application Deadline: Tuesday, October 17th, 5 PM ET
**Deadline Extended to Friday October 20th at 12 PM ET**
Pitch Competition: Tuesday, November 14th *In-person
Interested in watching the event? Stay tuned for event registration, coming soon!
Eligibility:
Team must be led by a current U of T student trainee (this includes undergraduate and graduate students). The presenter at the live pitch competition must be a current U of T student trainee.
Product/concept must be within the health space.
Teams must by early stage (equivalent to H2i Level 2 or earlier).
How to Apply?
To apply, please complete and submit the application form below.
This form is closed for submissions.
UTL Market Research Workshop:
This workshop is open to any U of T community members. While optional, it is highly recommended that Pitch Perfect applicants attend.
The workshop will be conducted by Catherine MacGregor, Finance Learning Centre (FLC) and Liaison Librarian from U of T Mississauga Library.
The session will be held on Zoom:
https://utoronto.zoom.us/j/89228261552
Meeting ID: 892 2826 1552
Passcode: 468311