A Summer with H2i and the 2022 African Impact Challenge Cohort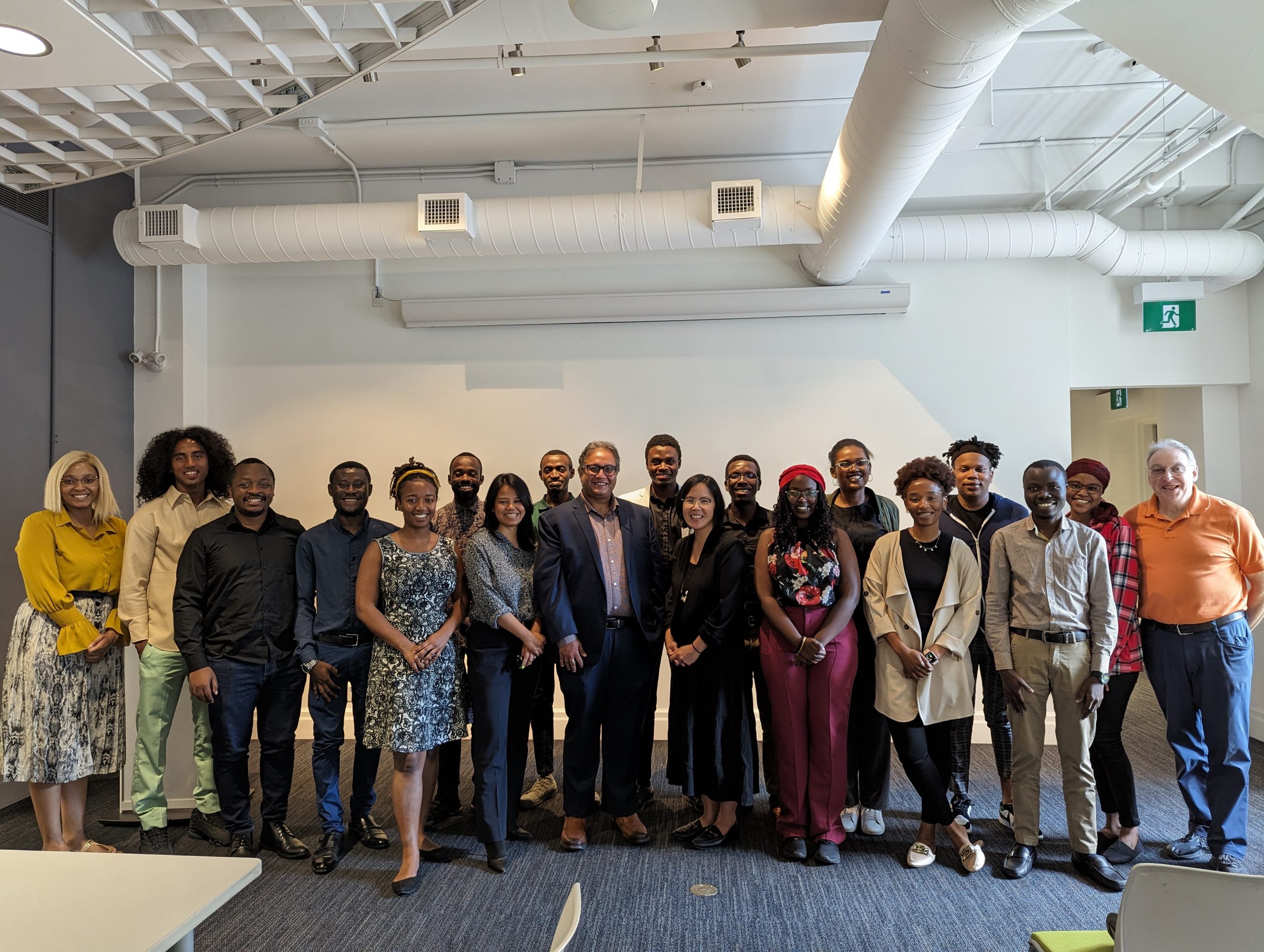 This summer, H2i joined in hosting a delegation of founders from the 2022 African Impact Challenge here in Toronto. Having worked with the cohort throughout the academic year, the H2i team was thrilled to spend ten weeks getting to know these incredible founders further. Over the course of the visit, H2i International Coordinator Amanda Dlamini organized a series of events targeted at supporting the founders with the next stage of their business development. In addition, the H2i team joined the group and fellow African Higher Education Health Partners African Impact Initiative, The BRIDGE, ICUBE and the Office of the Vice President International, at various events, showcases and social gatherings.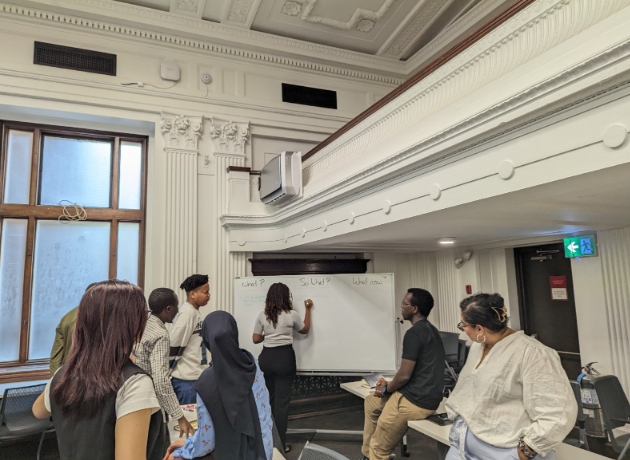 To start the summer's programming, H2i teamed up with the Translational Research Program (TRP) and Ideation Clinic to hold a series of five Hack & Huddle workshops. The series was targeted at helping the founders creatively and collaboratively solve their ventures' pressing challenges.
Leveraging the expertise and curriculums of TRP and Ideation Clinic, these workshops taught the founders to first accurately and specifically define their problem, need and challenge, before moving onto finding creative solutions.
Each session opened with a talk by Dr. Joseph Ferenbok, focused on different stages of problem-solving: unmet needs identification and definition, ideation and idea storming, prototyping, evaluation, and solution assessment. After each talk, there were rotating presentations and 'hacks' where each founder had the chance to present their progress and invite feedback. In the latter half of each session, collaborative breakout groups were facilitated by an engaged and knowledgeable team of TRP graduate students who also helped organize the sessions: Kimberly Crasta, Nathalie Trinh, Ellis Gao and Janna Mohamed.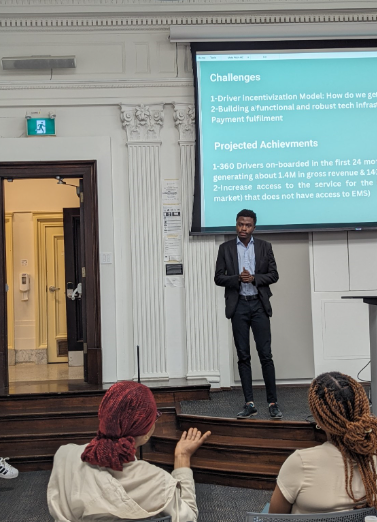 Innovation is founded in necessity, want and need, with the ultimate purpose of changing our reality. Working with various African ventures through the Hack & Huddles, we got to help the founders refine their vision and build a network to increase their impact. It is incredible to see the future of med-tech innovation during its initiation.

Kimberly Crasta, Hack & Huddle organizer and facilitator
Following the Hack & Huddle series, H2i held a special Accelera session on the topic of Intellectual Property (IP). The session, moderated by Dr. Paul Santerre, welcomed key opinion leader Josée Pharand, Director of IP Programs and Policy at ventureLAB. Pharand led the founders through various IP protection strategies and techniques, highlighting overall best practices and speaking directly to the founders' different areas of work. Generously sharing insights from her work, Pharand noted considerations and applications for copyright protection, patent licensing, trade secrets protections, data privacy infringements and more. A roundtable discussion followed, with founders posing questions to both Pharand and their peer entrepreneurs. Given this was a virtual session, the group was excited to welcome other members of the cohort and their teams from abroad.
If I were to sum up the experience in two words, it would be 'amazing and inspiring.' The Hack & Huddle concept led by the H2i team worked so well bringing out the importance of collaboration when solving problems in teams. My biggest take away and inspiration was to implement different problem-solving strategies when tackling challenges within my venture by seeing problems differently.

Peter Musyoki, Founder & CTO, Lima Technologies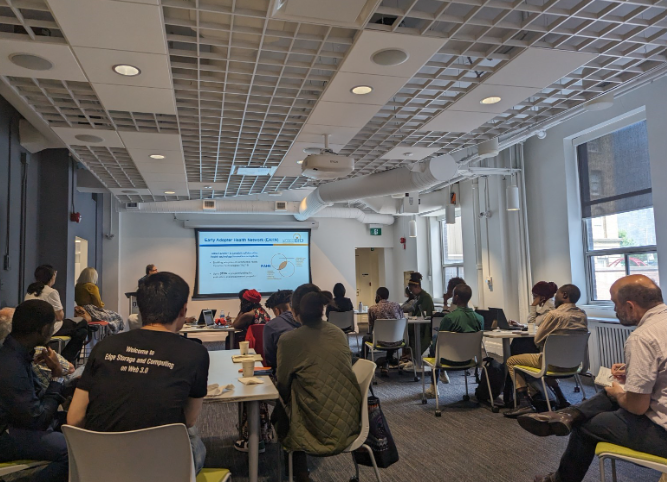 H2i's final event of the summer was a speaker session with the Ontario Bioscience Innovation Organization (OBIO). The event welcomed founders and domestic H2i community members to an interactive session on health technology innovation and commercialization.
Dr. Garima Ghale, Senior Program Manager for Women in Health Initiative (WiHI) at OBIO, started the session with a primer on the organization's mission and services. Dr. Christina Yeh, Vice President of Technology Commercialization at OBIO, followed with a presentation on funding processes and pitch preparation. Finally, Dr. Bibaswan Ghoshal, Senior Director of Technology Adoption at OBIO, presented on market acceleration and adoption practices across Canada. The speakers engaged with attendees throughout, answering pressing questions relating to their individual journeys. 
My experience with H2i in Toronto was enriching on a personal and professional level. The weekly hack and huddle sessions we had made me think critically about unconventional yet practical solutions to Vectorgram's challenges. My biggest take-away was: Involve your market in product development from as early as ideation and keep the feedback loop active!

Nikita Muthuuri, Co-Founder & CSO, Vectorgram Health
H2i would like to say a big thank you to all the partners, organizers, and speakers who made this summer's programming possible. We would also like to say a big thank you to all of the visiting delegates for sharing your impressive innovations and insights, and for allowing us to be a part of your healthcare innovation journey. We are greatly looking forward to continuing to work with you as members of the H2i community!