H2i Ventures Making the News | Fall 2023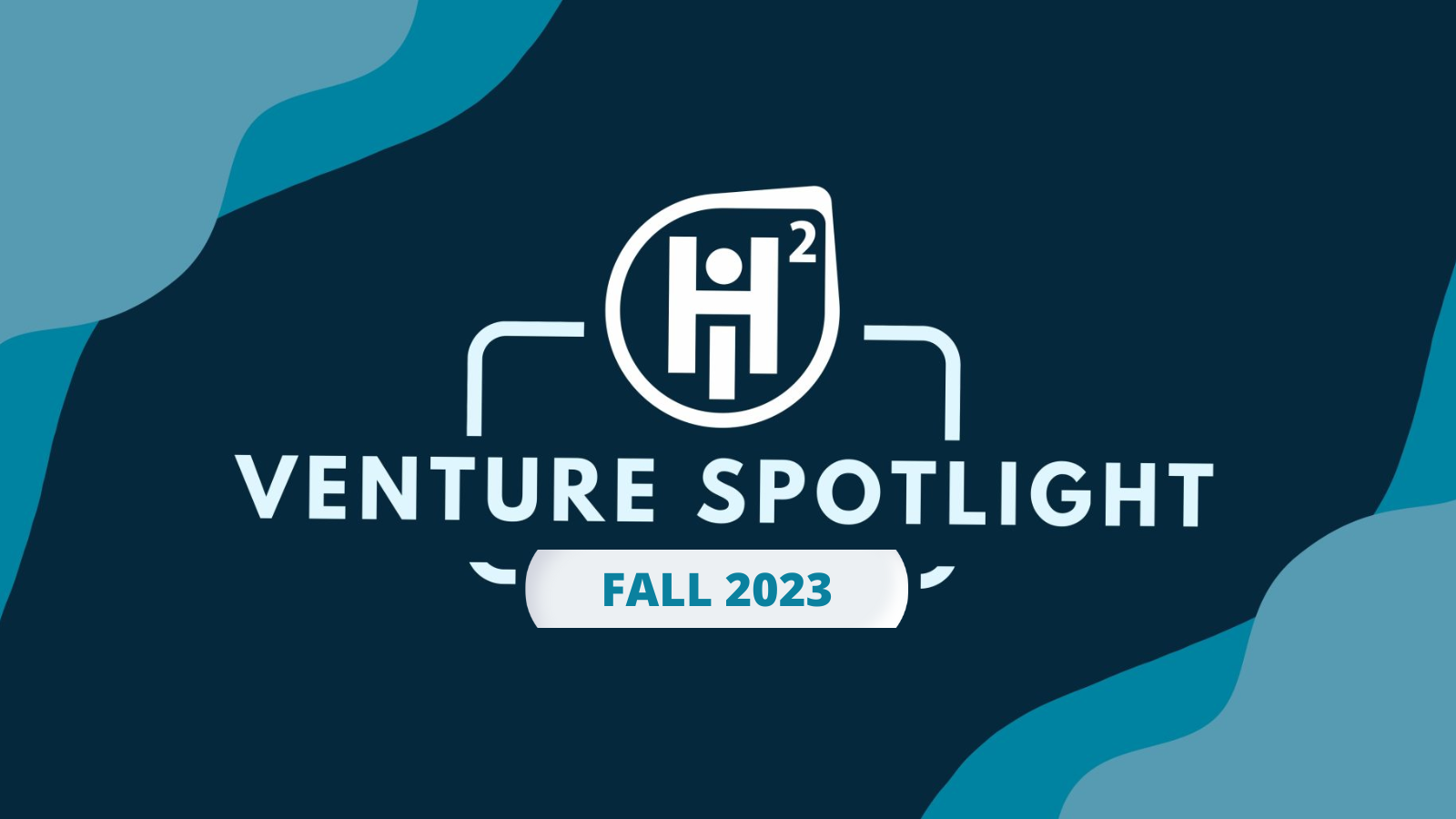 Allarta Life Science receives award from the Juvenile Diabetes Research Foundation
Allarta Life Science has been awarded by the Juvenile Diabetes Research Foundation (JDRF) with up to $800,000 USD to fund their ongoing research in finding a cure for type 1 diabetes (T1D). The JDRF is a leading global T1D research and advocacy organization that aims to accelerate life-changing breakthroughs in curing, preventing, and treating T1D, and its associated complications. The JDRF's Associate Director of Research, Dr. Jaime Giraldo, has highlighted that Allarta's approach to curing T1D is well-aligned with the Foundation's research strategy.
Allarta Life Science's novel hydrogel platform enables cell-based therapies using synthetic hydrogels that enable stronger metabolic connection with transplanted beta cells to prevent systemic immunosuppression. The Allarta team is optimistic that this funding will enable pre-clinical trials and advance their therapy further towards clinical use.
Maria Antonakos, co-founder of Allarta Life Science, is looking forward to this new and exciting chapter for the Allarta Life Science team. "JDRF is a leader in funding breakthrough science and transformative research to find a functional cure for T1D," Antonakos says. "We are deeply grateful for the recognition and support from JDRF International. This partnership will help fund the important work that the team at Allarta is undertaking to change the lives of people living with T1D."
Congratulations to Allarta Life Science on this incredible accomplishment! H2i is excited to see what lies ahead for the Allarta team and T1D research. Learn more about this accomplishment here and about Allarta Life Sciences here. 
---
HDAX Therapeutics takes home first place at the ECHO PITCH Competition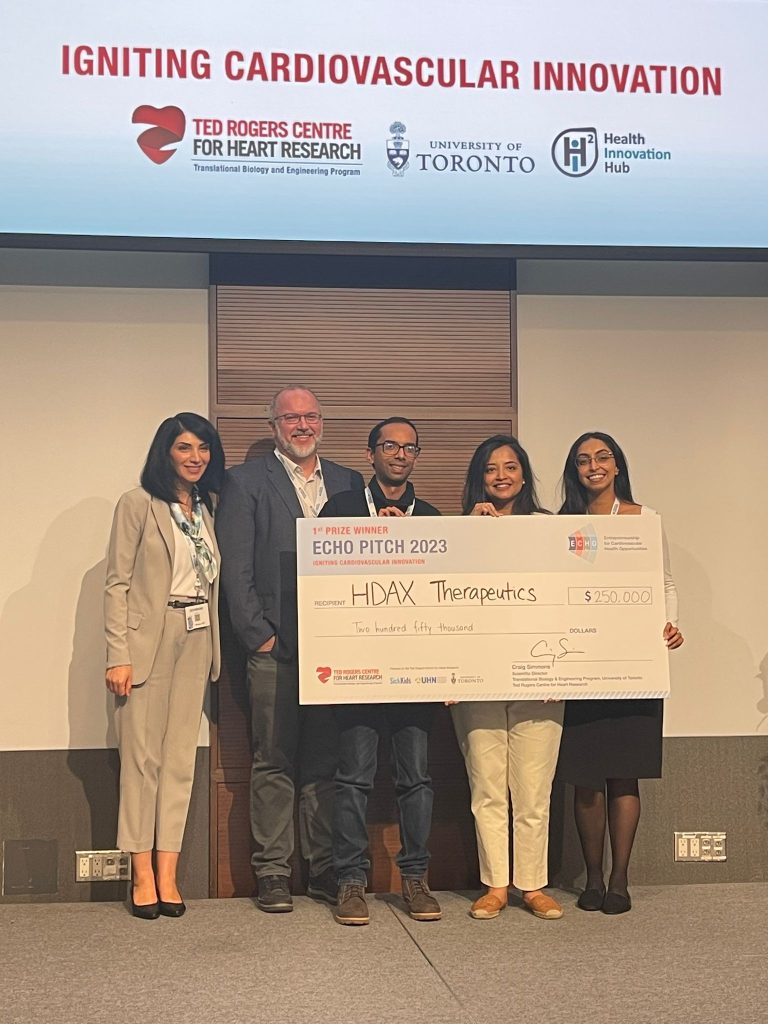 HDAX Therapeutics has won the 2023 ECHO PITCH Competition! The event, which took place on October 12th, was hosted by the Entrepreneurship for Cardiovascular Health Opportunities (ECHO) program and featured six of the top cardiovascular health start-ups in the ECHO program. HDAX Therapeutics placed first in the competition and took home $250,000 of funding for their pitch about next generation precision therapeutics that target the root causes of cardiovascular and neurological diseases.   
All pitch finalists were part of the esteemed ECHO program, which specializes in providing entrepreneurship training, mentorship, partnership, and funding opportunities for cardiovascular innovation ventures. The program is led by veteran entrepreneurs and consultants with vast experience in various sectors, and finalists in the Pitch competition have received 12-months of training and support to accelerate their innovation and pitch their ideas to a panel of judges and a live audience.   
Pimyupa Manaswiyoungkul, COO and co-founder of HDAX Therapeutics, is ecstatic for the recognition of their innovation and the future ahead for HDAX Therapeutics. "We are excited to have our work recognized by this highly esteemed panel of judges," Manaswiyoungkul says. "We are thankful for the ECHO program and all our mentors' support as we advance with high hopes to ultimately make a meaningful impact for patients in the future."
Congratulations to HDAX Therapeutics on their win! H2i can't wait to see how HDAX Therapeutics continues to transform the landscape of cardiovascular health. Learn more about HDAX Therapeutics here.    
---
FMRK Dx has been selected as one of ten British Columbian, early-stage, small-to-mid-sized enterprises (SMEs) to participate in the Life Sciences BC Investor Readiness Program! Starting in October 2023, the six-month program supports SMEs in becoming investor-ready by partnering them with entrepreneurs-in-residence (EIRs), who provide SMEs with vital knowledge-sharing opportunities that promote venture development. These opportunities include individual coaching, education sessions, goal setting, peer-to-peer feedback, conference opportunities, and group meetings. The program finale features an investor pitch session in March 2024, where the ten SMEs will pitch to investors, drawing on the knowledge gained from working with EIRs over the previous six months.    
 
By connecting with, and learning from, experienced life science professionals with extensive sector knowledge and connections, FMRK Dx will gain invaluable knowledge that will aid in their mission of expanding access to diagnostic testing and reducing strain on doctor's offices and emergency rooms. FMRK Dx is currently developing and refining their creation of a simple, easy-to-use device that enables healthcare workers to determine the antibiotic susceptibility of bacterial pathogens on-site, rapidly and accurately, and therefore eliminates the need to send samples to a lab.   
 
Faisal Khan, Founder and CEO of FMRK Dx, says, "British Columbia has an incredible healthcare innovation ecosystem and FMRK hopes to one day be a proud part of that. Our acceptance into the Life Science BC Investor Readiness Program is a big step towards that goal. My team and I are excited to be participating alongside some great startups while also getting access and mentorship from some of the most experienced and insightful leaders BC and Canada have to offer. These next 6 months will help propel FMRK ever closer to commercialization and realizing our vision of advancing and enabling decentralized healthcare through easy to use near patient diagnostic testing."  
Congratulations to FMRK Dx on this incredible achievement! H2i wishes you luck in completing this exciting program. Learn more about FMRK Dx here! 
allTags
No allTags saved to the post yet …