FemSTEM 2022 Pitch Competition
Join H2i for the 2022 FemSTEM Pitch Competition!
Tune in on Thursday March 24th at 3:00 PM to hear from six incredible women-led ventures as they compete for the chance to win funding for their cutting-edge health innovations!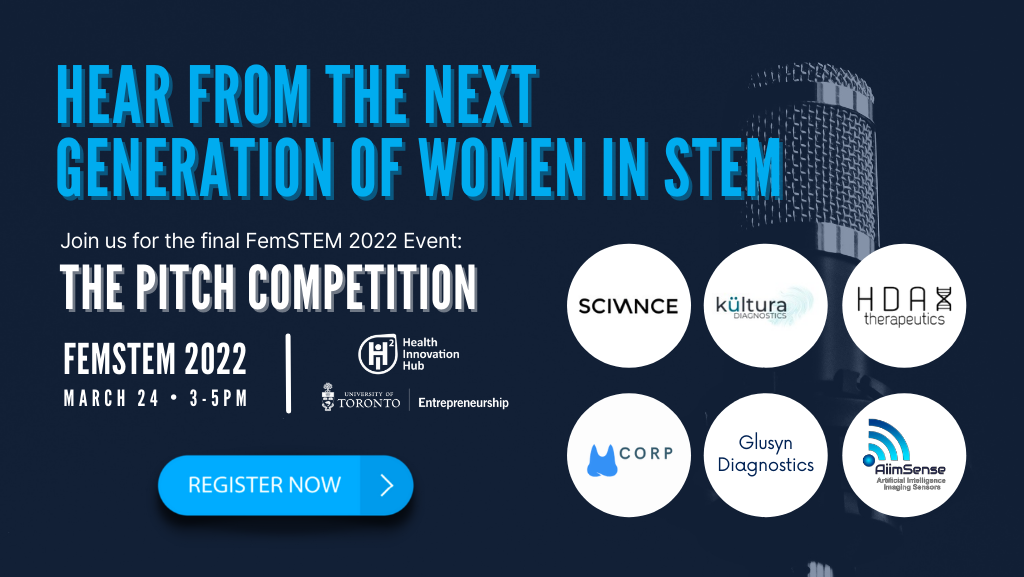 Each year, H2i holds the FemSTEM Pitch Competition as the culminating event of the FemSTEM event series. The pitch competition, judged by a panel of industry experts and key opinion leaders, gives up-and-coming healthcare innovators the opportunity to present their idea to the public and the chance to win funding and in-kind services to scale their project. With FemSTEM's mandate to inspire, engage, and celebrate women entrepreneurs, this final event spotlights and accelerates the work of the next generation of women entrepreneurs in the healthcare sector.
This year's finalists are: Aiimsense Inc., Glusyn Diagnostics, HDAX Therapeutics, Kultura Diagnostics, SciVance, and UCorp's 'Toothpod.'
Want to learn more about the finalists? Check out our "Meet the Finalists" feature!
This year we welcome Evelyn Pau, Inmar Givoni, and Kerri Austin as our panel of expert judges, and Cassels Associate Kassandra Shortt to present the awards.
The finalists will be competing for cash prizes and in-kind legal services provided by Cassels Brock & Blackwell LLP:
Winner: $15,000 cash prize and $5,000 in-kind legal services from Cassels
1st runner up: $5,000 cash prize and $5,000 in-kind legal services from Cassels
2nd runner up: $5,000 cash prize and $5,000 in-kind legal services from Cassels
The FemSTEM Pitch Competition is made possible by the generous support of Cassels Brock & Blackwell LLP and the Temerty Foundation.
Judges:
Evelyn Pau, Vice President, Investment Banking and Recruiting Lead joined Bloom Burton & Co. as an Analyst in November 2012. At Bloom Burton, her responsibilities include monetization planning, strategy consulting, and scientific, clinical and medical due diligence for pharmaceutical, biotechnology, and healthcare companies. Evelyn also heads Bloom Burton's recruiting and talent management efforts as the Recruiting Lead.
Prior to joining Bloom Burton, Evelyn was a business development analyst at Tornado Medical Systems (now Tornado Spectral Systems) and a research fellow at SECOR Consulting (now KPMG). Evelyn completed her PhD in Immunology at the University of Toronto, specializing in genetics and autoimmunity, and her Bachelor of Medical Sciences Honours in Microbiology and Immunology at Western University.
Currently, Evelyn serves on the Board of Directors of the McMaster Innovation Park.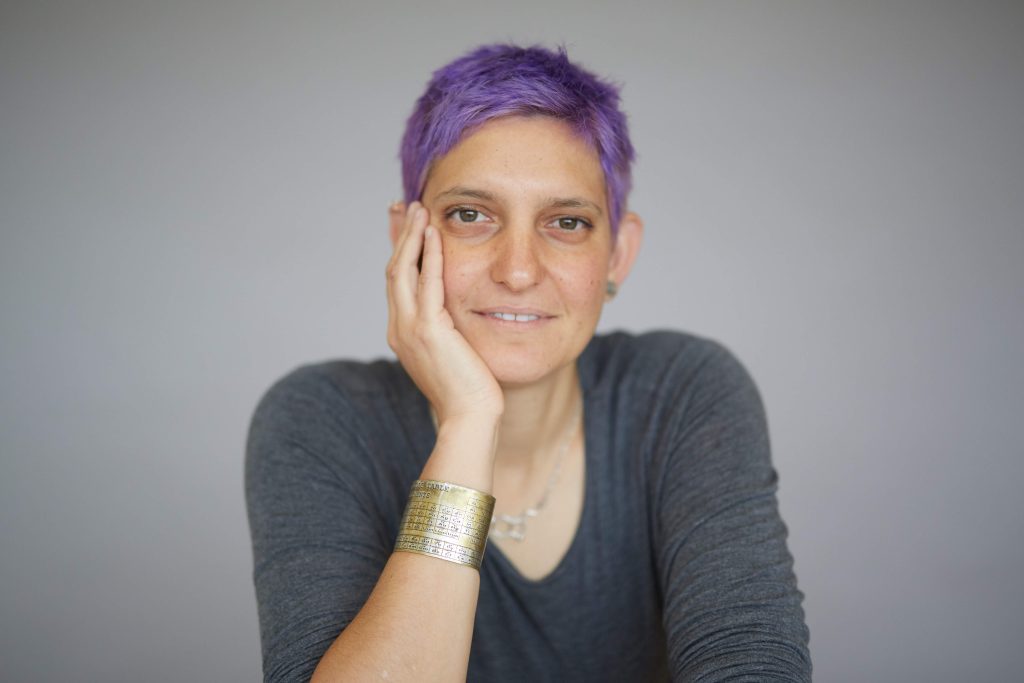 Inmar Givoni writes fiction.
She is also a start-up mentor, AI consultant, advisory board member, and a public speaker on AI, tech leadership and other topics. She volunteers her time organizing events and conferences for tech leadership, women in tech, and AI in Toronto (and combinations, thereof).
Before turning to writing, she was a Director of Engineering at Uber where she led a team who brought from research and into production cutting-edge deep-learning models for self-driving vehicles. She received her PhD (Computer Science) in 2011 from the University of Toronto, specializing in machine learning, and was a visiting scholar at the University of Cambridge. She is an inventor of several patents and has authored numerous top-tier academic publications in the areas of machine learning, computer vision, and computational biology.
She is particularly interested in outreach activities for young women, and has been recognized as one of Canada's 50 inspiring women in STEM (2018), one of Canada's Tech Titans: Top 19 of 2019, and one of Forbes Magazine's Women in AI to watch (2020). She was featured in Marie Claire, Toronto Life, and The Globe and Mail.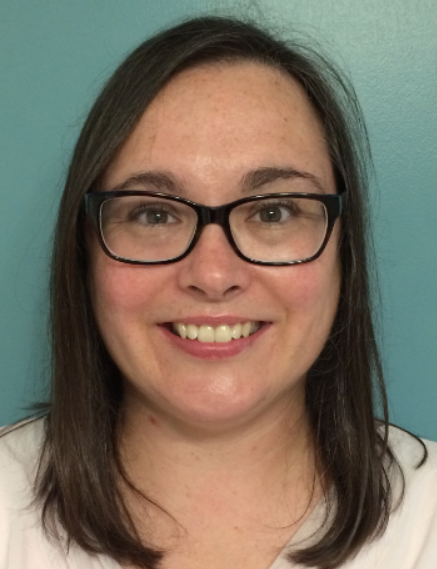 Kerri Austin, Senior Regulatory Affairs Manager at ICON plc.
Kerri Austin is a medical device regulatory professional with 20 years of regulatory and compliance experience in Canadian, US and EU markets. In her consulting role at ICON, Kerri leads the Canadian medical device lifecycle approval process via advising on regulatory strategy, facilitating pre-submission meetings, special access, managing regulatory submissions for pre-approval (clinical trials) and medical device approval. Kerri has strategically navigated the successful Canadian registration of unique first to market devices, leveraging the priority review process for multiple device portfolios in Canada. She has worked with various types and classes of devices including in vitro diagnostic devices (IVDDs), high risk implantable (active and nonactive), medical software/apps, remote monitoring, diagnostic, advanced mapping/navigation and ablation systems.
Kerri has worked over a decade at St. Jude Medical (now Abbott Medical) on the cardiovascular and neuromodulation portfolios. While at Abbott Medical, she managed a globally marketed medical device portfolio, including new product development to commercialization.
Award Presenter: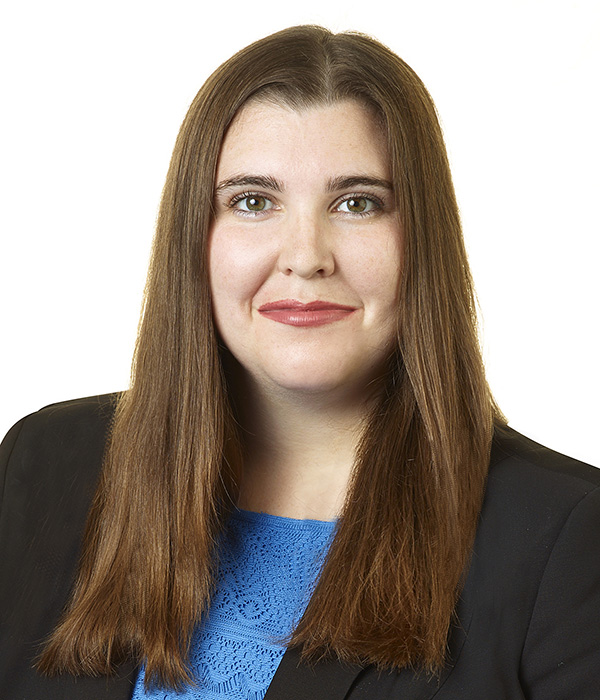 Kassandra Shortt is an intellectual property lawyer at Cassels Brock & Blackwell LLP. Kassandra has worked with numerous early stage companies on corporate matters and intellectual property strategy.
Kassandra's practice is focused on complex intellectual property disputes, with an emphasis on patent litigation. Kassandra has experience providing strategic advice and acting in disputes across many innovative industries, including the life sciences, food and agriculture, consumer products, and energy sectors. She has acted as counsel for clients before the Federal Court and the Federal Court of Appeal, including proceedings under the Patent Act, Patented Medicines (Notice of Compliance) Regulations, Trademarks Act, Copyright Act, and Industrial Design Act.
Kassandra also provides practical, business-oriented regulatory advice to companies, with particular expertise in products regulated under the Food and Drugs Act , Food and Drug Regulations, and Natural Health Product Regulations. Kassandra has experience advising pharmaceutical companies on all aspects of market access and product launch, including navigating health technology assessment, product listing, and pricing and reimbursement matters.
Before her career in law, Kassandra studied toxicology and worked on developing public health models of disease transmission.
Where
Virtually, via Zoom