Four Days at Entrepreneurship Week with H2i
Every year, University of Toronto Entrepreneurship (UTE) hosts its Entrepreneurship Week—a week to celebrate and showcase everything innovation across the three campuses an welcome people from the university and beyond to join in the discussion of what's up and coming in entrepreneurship.
This year's event, hosted virtually, took place from March 7th to 10th. In case you missed it, we wanted to take you through 4 days of EntWeek with H2i…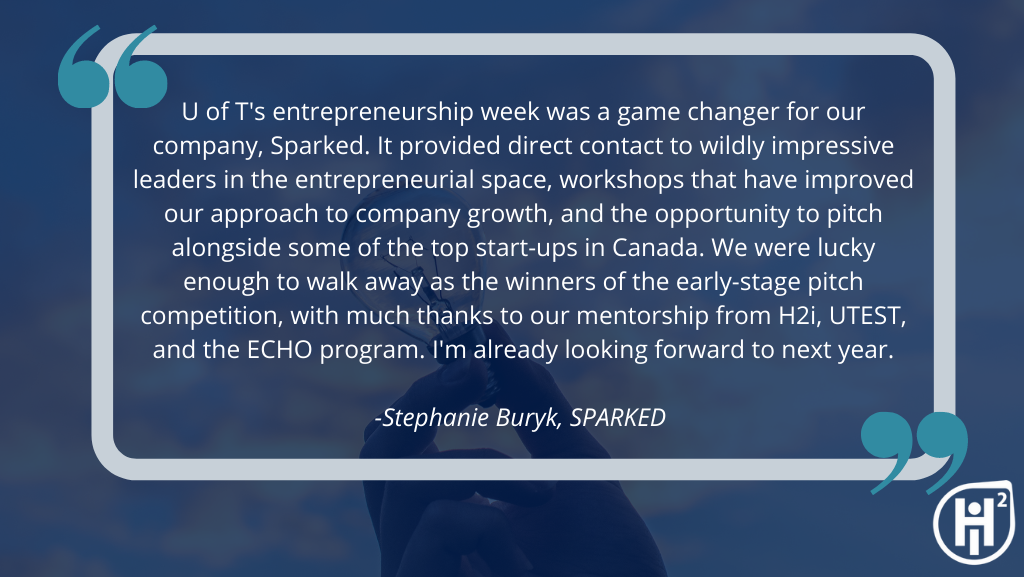 On Monday, the week kicked off with University of Toronto Entrepreneurship's Startup Prize competition. This annual business pitch competition offers more than $60,000 in prizes and seeks to recognize, reward and accelerate the most innovation startups from across the three campuses.
H2i was thrilled to see three of our startups win big at the competition. SPARKED, presented by Founder Stephanie Buryk-Iggers took home 1st place in the early-stage category, HDAX Therapeutics, presented by Co-Founder Nabanita Nawar took home 1st place in the late-stage category, and Arterial Solutions, presented by Muzammil Syed, took home the Lo Family Social Venture Fund Impact Award.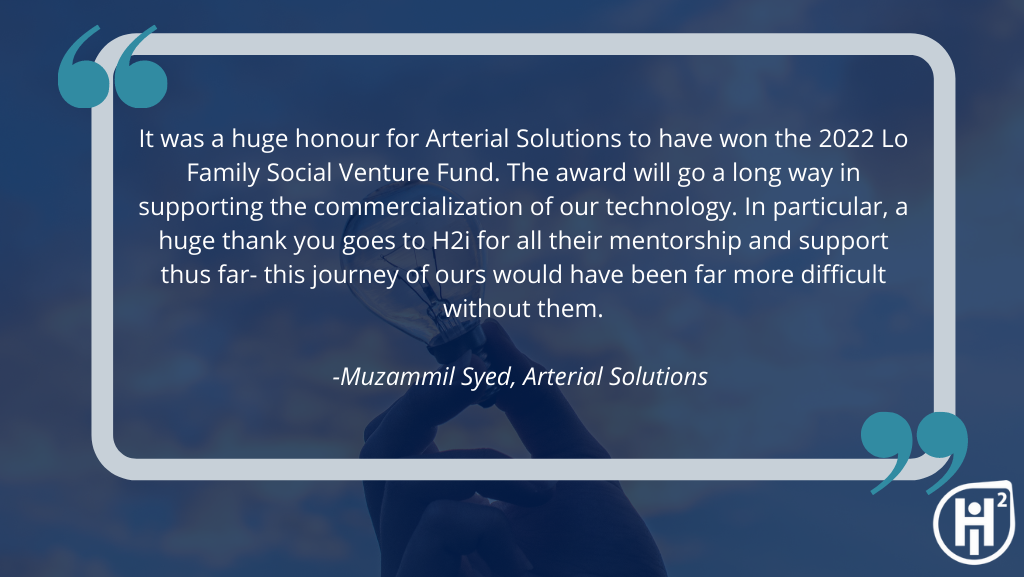 Congratulations to all participants and winners of UTE's Startup Prize–an impressive range of ideas and a fantastic way to have kicked-off the week!
On Tuesday, International Women's Day was celebrated in full form, with a range of events including ICUBE's Pitch with a Twist competition. The competition showcases women-founders leading early-stage ventures across numerous sectors. Two H2i companies ended up taking home top prizes: HDAX Therapeutics in first and SPARKED in second–both teams' second wins of the week!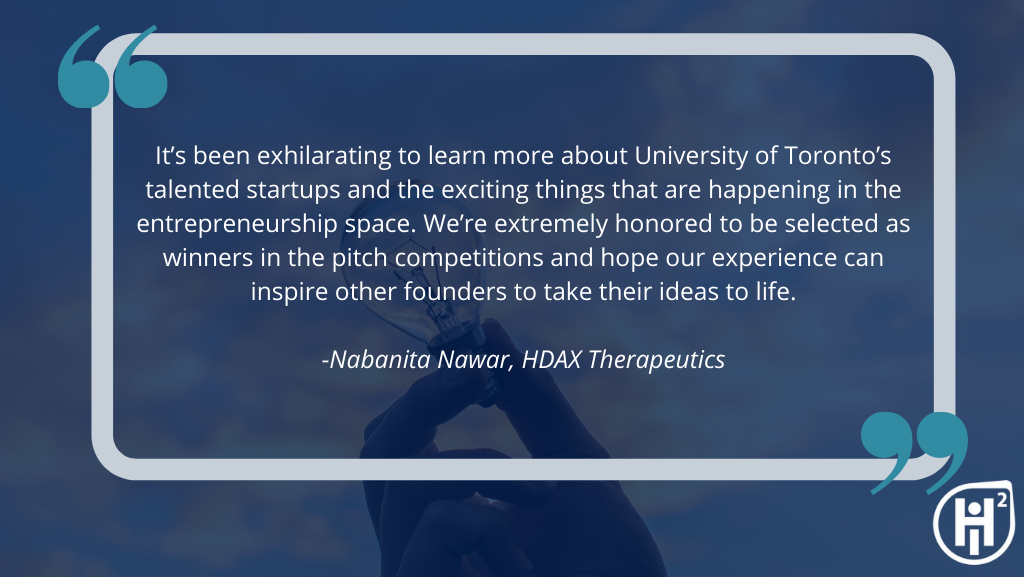 The celebrations for International Women's Day were carried over to Wednesday, when H2i hosted it's final Fireside at FemSTEM talk, with special guest Dr. Sandy Skotnicki. Fireside at FemSTEM is a speaker series held each year as part of H2i's annual FemSTEM programming. During each Fireside, we sit down with one incredible woman in the health entrepreneurship space and dive into their career and experiences to date.
For this final Fireside we were thrilled to welcome Dr. Skotnicki, who sat down with H2i Director Dr. Paul Santerre as moderator. Dr. Skotnicki talked about her experience as the founding director of Bay Dermatology Clinic, opportunities to innovate in dermatology and lessons she has learned in her impressive decades long career spent advocating for patient care. She also discussed the importance of taking care of oneself and suggested scheduling times in your calendar just for you.
On Thursday, eight companies pitched to North American Venture Capitalist groups, in an event organized by UTEST. Four of the eight companies to present were companies from H2i's program, and companies wow-ed with their products and pitches, gaining invaluable exposure and experience.
To end off an exciting and action-packed week, H2i hosted an event focused on stress management and mental wellness for entrepreneurs. Registered Psychotherapist (Qualifying) Soroosh Vafapoor kicked the event off with an insightful keynote address and proceed to guide the group through a mindfulness exercise. The event then moved to a panel with guests Wendy Naimark, Harold Wodlinger, and Michael Floros. The panel and audience engaged in discussion around how founders and entrepreneurs can cultivate mental wellness in themselves, their companies and the innovation landscape at large.
All-in-all, it was an incredible week full of impressive showcases of innovation and inspiring discussion. One thing is clear from this week: our university, with 11 accelerators across the three campuses and the new Schwartz Reisman Innovation Centre, continues to be a crucial hub for innovation in Toronto and beyond.
We can't wait to see what's to come…
allTags
No allTags saved to the post yet …